Posted by Elena del Valle on December 21, 2009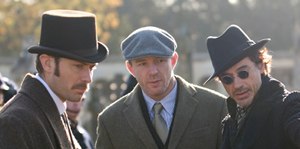 Jude Law, Guy Ritchie and Robert Downey, Jr. on the set
Photos, video: Warner Bros.
That eccentric British detective is at it again. This time Robert Downey Jr. plays the famous fictional character and Jude Law his faithful sidekick. The latest reincarnation of Arthur Conan Doyle's Sherlock Holmes is brought to the screen this Christmas Day by Director Guy Ritchie in the simply titled Sherlock Holmes, a Warner Bros. release. Scroll down to watch a film clip.
After a string of brutal, ritualistic murders, Holmes and Watson arrive in time to save the latest victim and uncover the killer, Lord Blackwood. He has terrorized inmates and jailers with his seeming connection to dark and powerful forces. As he approaches his scheduled hanging, Blackwood warns Holmes that death has no power over him. And when, by all indications, Blackwood makes good on his promise, his apparent resurrection panics London and confounds Scotland Yard. Fortunately for fans of the detective to Holmes, the game is afoot.
"He was probably the first superhero, an intellectual superhero," said Downey Jr. "He was, and probably still is, one of the most recognizable icons on Earth, so much so that a lot of people actually thought that Sherlock Holmes was a real person. The more you look into Arthur Conan Doyle's books, the more you see what a rich character Sherlock Holmes is. He's very adept at so many things: he plays violin, he's a martial artist, a boxer, an expert single stick fighter and a swordsman of sorts. He has a strong moral code in helping good guys catch bad guys, so he has dedicated his life to being a consulting detective. He doesn't do it to show everyone how smart he is, or that he has figured everything else out when they haven't; he's actually a crusader."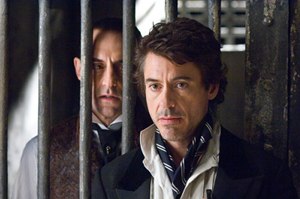 A scene in Sherlock Holmes
"We've tried to take him back to what we believe to be his origin, which is essentially a more visceral character," said Guy Ritchie, who has been a Holmes fan since childhood. "We've tried to integrate that and make him more streetwise. He is inquisitive about chemistry, martial arts, and the human condition. Yet he managed to percolate through all the different echelons of English society, which was tremendously complex. But then, as now, Sherlock Holmes is unique; there's really no one else like him. I think that's why his appeal has stuck. And while our story is rooted in London of the 1890s, we have tried to make it as contemporary as we possibly can."
Although a spokesperson indicated by email that "The studio will not be sending screeners for this film," according to promotional materials, Holmes and Watson fight to bring down "a new nemesis and unravel a deadly plot that could destroy the country." Other cast members include Rachel McAdams, Mark Strong, Eddie Marsan, and Kelly Reilly in the dark looking story. Michael Robert Johnson, Anthony Peckham and Simon Kinberg are responsible for the screenplay.