Posted by Elena del Valle on October 17, 2012
By Nivene Judeh
Blogger, It's Economic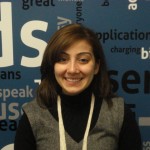 Nivene Judeh, blogger, It's Economic
It appears there's some confusion about the meaning of "poverty."
According to a new TNS Omnibus study for CashNetUSA (www.cashnetusa.com/do-you-consider-yourself-to-be-poor), 25.2 percent of the 1,000 participants, or more than one in four Americans, consider themselves to be poor. But according to the 2010 U.S. census, only one in six Americans actually lives below the federal poverty line.1 So where does the discrepancy come from?
The U.S. government's definition of poverty consists of looking at a family's or individual's yearly cash income before taxes and comparing it to how much money is required to meet the needs of everyone in the household. Officially, a single person under the age of 65 is considered poor if he or she makes an annual income of $11,344 or less. A family of four, consisting of two adults and two children, is considered poor if its annual household income is $22,113 or less.1
Of the 25.2 percent that identified themselves as "poor" in the TNS study, slightly less than half make an annual household income of $30,000 or more. Over eight percent make at least $75,000 a year.
The government's understanding of poverty clearly doesn't coincide with how Americans view their financial situation. The reality is that an income of $22,000 a year is simply not enough for a family, regardless of its size, to comfortably raise a family in an urban environment.
Despite its definition, even the U.S. Census Bureau doesn't fully believe the federal poverty line is as accurate as it can be. "The money income measure does not completely capture the economic well-being of individuals and families, and there are many questions about the adequacy of the official poverty thresholds."1
The biggest issue is that while the threshold has been adjusted yearly for inflation, it has not regarded the ever-changing standards of living since it was first established more than 40 years ago.1
So what does this mean for Americans?
Many are turning towards non-traditional credit options like payday loans, installment loans or lines of credit for help during unexpected financial emergencies. According to a study (www.pewtrusts.org/uploadedFiles/wwwpewtrustsorg/Reports/Safe_Small_Dollar_Loans/LOANS_Payday%20Lending%20Report%20Final_web.pdf) from the Safe Small-Dollar Loans Research Project at the Pew Charitable Trusts, roughly 5.5 percent of U.S. adults spend $7.4 billion annually at payday lenders. Lower-income Americans are more likely to take out the loans as well, with 11 percent of people making between $15,000 and $25,000 having used a payday loan, with the proportion decreasing further up the income ladder.
When looking at race and ethnicity demographics, the Hispanic population only makes up 14 percent of all payday loan borrowers, which otherwise consists of 55 percent Caucasian and 23 percent African American. When looking at the Hispanic population as a whole, six percent used a payday loan compared to 12 percent of African Americans and four percent of Caucasians. More information may be found at www.cashnetusa.com/blog/one-in-four-americans-poor-a-new-study-shows/

Judeh obtained her Bachelors of Communication from Loyola University Chicago and currently writes for the CashNetUSA blog: It's Economic. She loves to discuss fashion, finance, TV and cupcakes. Rumor has it she has an owl fetish and drinks too much coffee – that is yet to be determined.
1DeNavas-Walt, C., Proctor, B. D., Smith, J. C. (2011, September). Income, poverty, and health insurance coverage in the United States: 2010 (No. P60-239). Current Population Reports. Retrieved from the U.S. Census Bureau Web site: http://www.census.gov/prod/2011pubs/p60-239.pdf