Posted by Elena del Valle on June 14, 2016
By Jay Gronlund,
President, The Pathfinder Group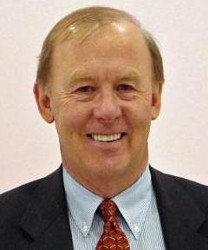 Jay Gronlund, president, The Pathfinder Group
On May 19, 2016 I went to the "Latinas & Power" symposium in Hartford, CT, at the invitation of the main organizer, Marilyn Alverio. Although this event had been running for 13 years, it was my first time attending.
What a pleasant surprise! Over 500 Latina of all ages attended, and the enthusiasm was ubiquitous and profound. There were two main goals: to educate Latinas on the skills to become more proactive politically and in business and careers, and secondly to motivate and inspire, giving them the confidence that they can indeed accomplish more in life.
The day long symposium included noteworthy Latina speakers, networking opportunities, recruitment by CT companies, entrepreneurs selling their goods and a variety of workshops led by successful Latinas. An exciting atmosphere was immediately established with a dynamic introduction by Marilyn Alverio. She is the ideal role model for younger Latinas – glamorous, accomplished, feisty, smart and passionate, brimming with contagious enthusiasm and confidence.
Much of the focus was on Latinas as an emerging, important segment of the U.S., with the potential for greater influence in politics, business and society. I quickly realized how this Latino segment is so under-appreciated – 1 in 6 Americans are Latinos, mostly young (65% aged 22-35) and more than 20.5 million Latinas.
The lack of full recognition of the potential of these Latinas is not surprising, however, when one understands their cultural journey in life. Traditionally the role of a Latina in their home countries was very subservient, taking a back seat to "macho men" and focusing on raising a family and managing their household. However their migration to the U.S. became the start of a new transformation in a society where females are more independent, proactive, and empowered. Such lifestyle adjustments on this journey are not easy. Fortunately the younger Latinas born here are more confident and audacious, although still affected by their Latino culture and traditions.
The positive, uplifting spirit of this symposium certainly instilled new confidence for all attendees. However, the cultural nuances of Latinas as a group still make them easy to stereotype, so the challenge to be successful in the workplace remains a more complicated task that will require individual adaption and creativity. To help individual Latinas overcome any arbitrary adverse perceptions, one answer is to personally brand themselves in a way that positively leverages their heritage and gives them a competitive edge.
The concept of personal branding is not that complicated. Branding is all about creating the right impression that will resonate and help one develop a meaningful relationship with your target – usually the customer in business, but for the job market, the interviewer or recruiter. Basically, personal branding starts with a full assessment of your target audience and what they want (e.g. a company or manager), and then honestly presenting your skills and strengths in a way that relates to their desires. Here are some fundamental steps to help one develop their own personal brand:
1. Your Target – this is critical. Ask yourself what type of company (or manager) you would like to work at for the next several years – e.g. industry, company culture, their attitude toward supporting employees, openness for diversity, location, types of people working there, etc. Try to determine the company "personality", criteria for new employees, and the values/attitudes that are most important for each company under review. Your due diligence should involve reading everything about the company (e.g. use Google?) and also networking to find people at that company (or who left), to ultimately develop a list of their ideal attributes for a new candidate.
2. Your Competition – observe the "types" of people at these target companies, to determine similar traits and whether you might fit in. It will be important to not only have similar attributes, but also how you might create an "edge" that would positively differentiate you.
3. What You Can Offer – In branding, this is called the benefit or promise. Objectivity and credibility are essential. First, look at all possible work skills from various sources and then select the 8-10 that honestly reflect your key strengths. Since there is always some bias, share the initial broad list with friends and/or colleagues to get their anonymous choices for you, and then finalize the 6-8 attributes in which you all feel most confident. Finally compare these agreed upon strengths with the original list of desired qualifications for each company of interest to you.
Try to position an obvious characteristic like your Latina heritage into a positive – e.g. emphasize your passion for hard work, your strong interpersonal skills from such close family upbringing, etc. In addition, be resourceful and come up with specific examples or stories from previous experiences that would add credibility behind each competency, which will also help your attributes resonate and differentiate you from other candidates.
At the end of the day, personal branding is about creating an optimal fit for your desires and strengths matched against the needs of a new company or manager. Doing this will not only help you establish an optimal impression, but will also give you more confidence to deliver on all your personal promises to the company (or boss) that you target in your search.
Jay Gronlund is founder of The Pathfinder Group, a business development firm specializing in emotional branding, ideation facilitation and international expansion. His background has included executive positions in marketing and new product development at reputable companies in the US and abroad. He is also vice president, managing director of Latin Pulse – USA, a marketing and research firm headquartered in Mexico City. Jay teaches branding at NYU, and has a B.A. from Colby College and MBA from Tuck at Dartmouth.