Posted by Elena del Valle on July 9, 2006
Music
Batanga website
An Internet radio website specializing in Latin music. Website visitors may listen to music on the website but may not download any songs unless they purchase them.
DeSol On My Way album
DeSol "on my way"
Diana Mera website
Diana Mera
Pop music singer and writer Diana Mera's website. It features snippets of her music, her bio, music videos and merchandise.
Shock Bukara Corporama album
Shock Bukara "Corporama"
Films
Quinceañera (Sony Pictures Classics)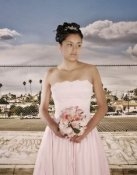 Emily Rios as Magdalena in "Quinceañera" 
Photo: Sony Pictures Classics
"Quinceañera," (Spanish for 15 year old girl), winner of the Audience Award and Grand Jury Prize for Best Dramatic Feature at the Sundance Film Festival 2006, is a 90-minute  look at what happens when teenage sexuality, age-old rituals, and real estate prices collide. "Quinceañera" was written and directed by Richard Glatzer and Wash Westmoreland.  Cast members include Emily Rios, Jesse Garcia, Chalo Gonzalez, David Ross, and Jason L. Wood.  
Haiku Films.org
Little Soledad from Soledad is Gone Forever
Photo: Ron Koeberer
San Francisco based Haiku Films produces fiction and non-fiction programming for theatrical, television and digital media. Peruvian born Mabel Valdiviezo spearheads the company via thought provoking projects with Latino themes including immigration. Recent projects include the short film Soledad is Gone Forever, Silhouettes and Carlos Baron.
---
Maradona: The Hand of God
Maradona: The Hand of God, a film about the life of Diego Armando Maradona, the famous soccer player from Argentina, was released in DVD in February 2008. Made with Maradona's cooperation, the film is described in promotional materials as "an honest portrayal" of the legendary player. The 110-minute film, released in North America by Xenon Pictures and Lionsgate, is in Spanish with English subtitles and retails for $19.98.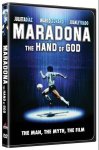 Click here to buy Maradona: The Hand of God
---