Posted by Elena del Valle on April 30, 2012
Why marketers need to realign their current Hispanic digital practices to better engage this consumer
By Maria Lopez-Knowles
President
GlobalHue Latino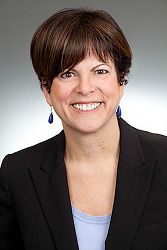 Maria Lopez-Knowles, president, GlobalHue Latino
Photo: GlobalHue Latino
Early on in the digital age, some brands realized that the online Hispanic market was a key growth opportunity for their products and services, and decided to expand their web presence to engage this segment. Many assumed (and continue to assume) that since most of their other Hispanic marketing was done in Spanish that it made perfect sense to build out their corporate websites to include a Spanish-language only site; sounds reasonable.
Many companies developed their digital ecosystems (including Spanish-language content/site) with the hopes of driving greater engagement, e-commerce and advocacy via their online Hispanic consumer base. Some have been confounded at their results to date; many, completely disappointed.
Toggling between Spanish and English in one session, and purchases made almost exclusively on the English-language site have left many marketers perplexed – and rightfully so.  The toggling, more often than not, is a result of the communal web experience that occurs with many multi-generational families who share computer access. The Spanish language content is consumed by the first-generation, and the second-generation consumes the general market/English-language content.
Regarding purchases on English-language sites, it's commonly known that the less acculturated Hispanic is more distrustful of online (and offline, for that matter) financial transactions (cultural legacy from their homelands). In fact, many use their English-language proficient family members to execute purchases on their behalf – similar to what happens in the off-line world during commercial transactions between native children and their less acculturated foreign-born immigrant parents.
Interested? Let's then take a closer look at the online Hispanic.
In 2010, 65% of Hispanics were online according to Pew Research (66% penetration for African-American; 77% for Caucasian).
Of the Hispanics that are online, 84% are U.S. born/second-generation, and approximately 54% are foreign-born. (Worth noting, that the foreign-born/first generation could be a 1.5 immigrant. This is an immigrant that came to the US at an early age, and his/her primary schooling took place here. This group tends to behave similarly to a U.S. born/second-generation Hispanic immigrant, and is more acculturated than their foreign-born adult immigrant relatives).
Why should this online Hispanic matter to a brand, and more importantly, to its digital strategy?
If 84% of those that are online are second-generation Hispanics, they are most likely English-language dominant, bilingual and bicultural (but probably not completely bi-literate). This group is also comprised of influencers. This generation, along with the 1.5, act as sherpas for their foreign-born relatives. They navigate the new homeland, interpret the U.S. ethos, and translate the language for their immigrant relatives. In short, they become influencers at a very early age; a defining behavioral trait that stays with them throughout their lives. Their sphere of influence is also significant, as it includes their American and Hispanic friends and families. We see their influencing behavior online as well. One of the largest blogging blocks in the U.S. today is the bilingual/bicultural English-language dominant Hispanic segment.
Moreover, we know that this group tends to also be better educated and have higher household incomes than their first-generation parents (home-field advantage). Since they are acculturated and English-language dominant, most advertisers believe that they are effectively reaching them with their English-language assets, so their job is done. They probably are reaching them with their English-language communications …but are they touching them? Are affective brand connections that drive engagement, acquisition, loyalty, and advocacy being made?
Advertisers must recognize that their digital strategy needs to map back to their consumer segments in order to drive engagement, acquisition, and advocacy. Repurposing existing Spanish-language assets is not the answer. Content needs to be relevant from all areas: language, culture and intellect. This segment needs to feel welcome – from the online ad, to the site, through acquisition, and advocacy. A seamless online experience, tailored to meet their linguistic, cultural and intellectual needs/preferences, will make a tangible difference and drive growth across the market.
Ensuring that this segment is a brand ally should be a key strategic imperative for all marketers. The online Hispanic segment is complex and dynamic, but worth a second look. Brands who truly discern this segment will drive greater engagement, acquisition and advocacy. Arming this consumer with the tools to exert their influence, across language and media will drive greater ROI and impact total market results.
At GlobalHue Latino, Maria leads the agency's Hispanic practice bringing her deep discernment of the multi-generational Hispanic community and Latino influencers – particularly, the 1.5/2.0 generation Hispanic, to the agency's select client base.