Posted by Elena del Valle on October 12, 2010
By Juana M. Véliz
Managing director, Hispanic Practice, Lagrant Communications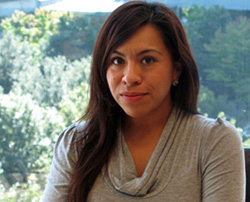 Juana M. Véliz, managing director, Hispanic Practice, Lagrant Communications
Photo: Lagrant Communications
New data from the Yankelovich Monitor Multicultural Study 2010 reported what we, as multicultural communicators and marketers, have experienced: Hispanic and African American consumers are more willing to purchase from, and be loyal to, companies actively engaged in their communities to make a positive change.
While one-third of Hispanic and African American consumers said they almost always choose brands because they come from companies that help the causes they support, just one in five non-Hispanic Whites agreed to do the same.
Accordingly, in order to build long-lasting relationships and earn the loyalty of Hispanics/African American consumers, it's essential to include a social component into our strategies that shows understanding and commitment to their needs.
However, in the midst of a recovering economy, the budget and time allotted for corporate social responsibility (CSR) and cause related marketing (CRM) programs have experienced an inevitable reduction. When discussing the topic internally or with clients, agencies must remain creative and remember the high social expectations held by ethnic consumers as well as actual opportunities such programs could bring to the business.
Corporate Volunteerism
When executed strategically, CSR initiatives should help support the cause a company believes in, as well as generate new business opportunities. Corporate volunteerism for example, is one of those CSR smart choices.
Lagrant Communications' CSR initiatives were established in 1997 with a simple philosophy: The more education an individual receives, the more they will learn to take care of their health, and therefore take advantage of arts and culture in their community.
Upon brainstorming on how to celebrate the firm's 20th anniversary, we decided to develop a corporate volunteerism strategy in order to incorporate benefits for our communities, employees and company.
The result: Starting September 1st 2010 and over the course of the year, each employee has started volunteering 40 hours at a not-for-profit organization of their choice whose mission is health care, education or arts & culture – our core CSR initiatives.
Since our agency was established on social marketing causes and has honored its CSR program since its inception, we couldn't think of a better way to celebrate than to give back to those communities. Such culture is something we aim to pass on our stakeholders.
Benefits Beyond the Heart
Employees have the option to choose an organization they feel committed to, do volunteer work on company time and gain a broader perspective of the business by working with those communities we serve – knowledge that they will bring back with them.
Most of the benefits to employees are also benefits to the company. Offering employee-volunteerism programs can inspire loyalty among all employees, and has also become a strong selling point among young job hunters.
On the other hand, by lending our skilled employees to nonprofit organizations, they have more manpower to use toward their valuable causes.
In addition to employee volunteerism, companies have the option of executing pro bono campaigns.
Pro bono work is to an agency, what an internship is to a new professional: an opportunity to enhance and strengthen skills and a "resume," or in this case – client portfolio and industry experience. Some of the benefits are strengthening agency capabilities, improving community outreach, making contacts and securing recommendations to gain future business.
Whether it's through pro bono work or employee volunteerism, our agency has experienced the benefits of building a reputation for direct involvement with high-profile nonprofit organizations among the Latino community; from local Hispanic chambers of commerce to large-scale organizations such as the American Heart Association (AHA), or the American Cancer Society.
As an illustration, I was recently selected to serve as one of the strategists at the American Heart Association 2010 Health Equity Action Summit. The objective was to collaborate with key thought leaders to help derive strategies to achieve health equity in support of the AHA's 2010-2013 national strategy plan; an issue of critical importance for our Latino communities. The experience and exposure I gained among Hispanic and non-Hispanic leaders are a clear form of "compensation."
Also, we've been able to proudly showcase our pro bono clients in our new business presentations, develop case studies, network and receive important recommendations that – without a shadow of a doubt – have helped us secure new business.
For instance, the pro bono services Lagrant Communications provided to the American Cancer Society since 1992 have been invaluable and led to the execution of paid advertising and public relations campaigns such as Multicultural Cancer Awareness Week.
Set the example
Multicultural consumers have spoken. As the cited study shows, Hispanics have a preference for brands coming from companies that support causes they believe in. As multicultural communications strategists, it is our responsibility to set the example through CSR initiatives that are good for both our businesses and the communities in which our audiences live and work.
As managing director of Lagrant Communications, Juana M. Véliz designs and implements strategic plans for local, regional and national clients in the Hispanic Practice.