Posted by Elena del Valle on March 1, 2010
Marketing Doesn't Get More Direct than This
By Ricardo Quayat
Executive Creative Director, Rauxa Roja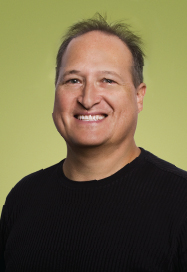 Ricardo Quayat, executive creative director, Rauxa Roja
Photos: Rauxa Roja
Hispanic culture has always centered on "conversation and community" – that sense of belonging to something bigger than oneself. Combine this with the fact that more than 23 million Hispanics are online (more than half the Hispanic population)1, and it's easy to see why social networking, as an extension of this community-centric way of thinking, is experiencing its largest audience boon within this segment. Ethnic minorities in fact visit social networking sites more frequently than non-Hispanic Whites 2, with Hispanics leading the way. Younger than the general population, and on the move in socioeconomic terms, this emerging market has the potential to redefine mainstream products and services through a viable and rapidly growing connection to social media.

Drivers of Hispanic Social Networking
Contrary to perceptions, adoption rates of online activity are accelerating even for unacculturated Latinos. By understanding cultural subtleties and insights, marketers can develop data-driven, culture-based strategies and tactics for precisely targeted social media campaigns with messaging that appeal to Hispanic prospects and customers on both an emotional and rational level. Through social media, marketers have a direct response tool that provides real-time feedback about brands and products, allowing swift response to improve the level of customer satisfaction.
Since Latino culture emphasizes the group over the individual, Hispanic consumers tend to look to others for advice or agreement on product choices. Social networks offer these users a sense of belonging and allow them to connect in a forum that promotes collective expression. In geographically-dispersed families and long distance friendships common to the Hispanic culture, social media gives users the ability to stay in touch routinely and economically. And with limited culturally-relevant media and in-language content available online, Latinos tend to be proactive, creating and sharing their own. As a result, use of this medium gives Hispanics a feeling of empowerment along with a sense of pride – not only in themselves but also in their heritage, their stature in life and their accomplishments.
Social Media that Speaks to Hispanics
With marketers recognizing that social media usage among Hispanics is not only on the rise but leading the charge, many have begun to treat the medium as a more relevant and strategic communications channel. But the Latino audience is not a passive one; they demand authenticity and relevance, and without it they will move on to a company or brand willing to invest the time and energy it takes to reach them on that level. It is imperative that marketers set defined expectations, and develop appropriate creative and execution strategies as the foundation for culturally relevant social media programs that complement a brand's overall marketing mix – all while speaking to the Hispanic audience in its many shapes and forms. Not an easy undertaking but one that can reap many rewards.
Similar to traditional Hispanic marketing tactics, solid front-end setup is required for success. Social media can accomplish a number of objectives and, prior to embarking on a campaign, marketers need to define these specific social media marketing goals.
Launching a new product, gathering research or providing customer service are all worthy objectives that illustrate an obvious need for campaign measurement. However, a deep knowledge of the targeted Hispanic audience and its cultural motivation is critical to developing strategies that work. Language preference, country of origin and level of acculturation should play a major role in any given social media campaign strategy, upping the authenticity quotient from the get-go.
Click on image to enlarge
Latinos are seeking more content and diversity within Spanish language-based websites in contrast to the rich media and content already widely available within English language-based websites; by taking advantage of the former, marketers have an opportunity to jumpstart their effort by tapping into an already engaged audience.
English dominant Hispanics are twice as likely to visit MySpace regularly as non-Hispanic White consumers.
(*) 2009 Hispanic Online Marketing, the Multicultural World of Social Media Marketing.
Hispanics trust the Internet and are more enthusiastic about the benefits of the Internet than the general market—so much so they have more confidence in online product ratings than the opinion of their friends.
(*) 2009 Hispanic Cyberspace, AOL 360, research@corp.aol.com
With Latinos turning to social networks for self expression, connection to their culture and communication with others, marketers must provide timely, relevant content to engage the audience, stimulating feedback and information sharing in return. Community events, ethnic holidays and similar culturally appropriate opportunities can serve as catalysts for this dialogue, building brand loyalty along the way. Through a variety of research methods – including social network monitoring and competitive keyword search – marketers can track relevant trends, adjusting specific tactics used for a "selective" social networking approach based on what the target audience is saying and doing. Responding at a point in which the audience is most receptive gives marketers the ability to positively influence behavior and drive results – it doesn't get any more direct than this. And by communicating brand messaging, brand attributes and direct response offers in ways that are meaningful to the customer, marketers are building long-term relationships from the ground up.
Timing is Everything
While Hispanics have been early adopters of social networking, most marketers have been slow to leverage this medium as one of the most practical and cost-effective methods to reach this audience. Those who have already devoted the time and resources to building and maintaining these programs however, see social media as the proven direct marketing tactic it is. By taking it beyond the mainstream into a growing audience segment like Hispanics, marketers are realizing that social media is not just relevant, but culturally relevant as a direct response mechanism for reaching customers and prospects through powerful two-way dialogue.
1. 2008, eMarketer, US Hispanics Online report
2. 2009, hispaniconlinemarketing.com The Multicultural World of Social Media Marketing
Ricardo Quayat has 20 years experience in creating direct marketing to serve Hispanics and expanding multicultural markets. As leader of Rauxa Direct's Roja division, Ricardo's creative and strategic efforts are centered on "marketing with cultura" that builds trust, respect and solid customer relationships.