Posted by Elena del Valle on January 11, 2007
A young DJ delivers a home-grown tradition to New York Mexicans, one of the city's hardest-pressed immigrant groups
By Miguel Angel Angeles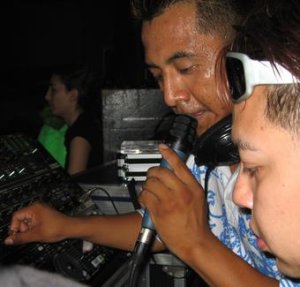 Sonido Kumbala is a revered figure on New York's sonidero scene
Photo: Elizabeth Campos
You can barely hear the lyrics of Julieta Venegas' recent hit "Me Voy," since a deep voice shouting over her number booms from the speakers. Some people stand and watch, as colored lights fall on disco balls spinning over the crowd on the dance floor. But others make their way to the man behind the voice: Alejandro Aviles, aka Sonido Kumbala, a Mexican DJ in New York who has developed a following and a measure of fame.
"He plays our music," said Ramíro Salazar, 18, of the Bronx. "This is a place where we can hang out and dance and forget about everything out there for a while."
Now celebrating his 10th anniversary of performing for crowds of Mexican and Mexican-American youth, Sonido Kumbala, 28, is an important figure in New York City's sonidero scene, an essential part of Mexican youth culture. The practice, which migrated from Mexico City, centers around the sonidero, a type of DJ who, rather than mixing songs on a turntable, sends shoutouts over Colombian cumbia.
A young man might proclaim his love to his girlfriend, shout-out to his friends, or send a greeting to his family. They could be in the same dance hall, in New Jersey, or in the Mexican state of Puebla. The performance will be recorded, and CDs of the event will be sold as early as the next day. The dedicator of a number can then buy the CD and send it to the girlfriend left behind in Mexico, give it to friends, or keep it as a memento.
The sonidero's voice is key to his success, said Aviles, who is single and lives with a friend in Queens. Aviles' voice is deep, raspy, strong, and emphatic. It's a voice that took him years to master.
"My voice was horrible when I began — so immature," he said, laughing. "Sometimes the fact that people liked me then is more shocking than the fact that I've become successful."
"The sonidero music scene is … a place [for Mexicans] to see and be seen with status, a rarified space for asserting their dominance and power," said Robert C. Smith, an associate professor of public affairs at Baruch College.
Mexican immigrants are among New York's poorest, relatively recently arrived and working at some of the most strenuous jobs for the lowest pay, as little as $2 an hour, according to New York's Tepeyac Association, a Mexican rights and assistance group. Since Mexican social spaces are still in the process of being created, young people lack a space for self expression, Smith said. The sonidero scene is a ready, though ephemeral, way for them to interact.
Aviles, who remembers attending open-air sonidero events, along with thousands of other adolescent and adult fans in Mexico City, said it felt good to be able to remind people of home.
"Many people, when they come to this country, want to follow in their traditions," he said. "I want to give them something, if even for a short while, that even though they are so far from Mexico, they can feel it is near."
Aviles, who is from Morelos state, was 12 when he went to Mexico City with his father, to help him deliver tortillas. He grew familiar with music stands selling sonidero and dance club music. As a teenager, he preferred club music. But when he arrived in New York in 1992 at the age of 15, he found sonidero music wildly popular among Mexicans there.
He met Fausto Salazar, a leading artist with the stage name Sonidero Potencia Latina, who made Aviles his apprentice. At 18, Aviles struck up a partnership with another friend, and began playing at private events. He lived through some rocky days. After he bought out the friend and their equipment for $8,000, he weathered a string of canceled gigs, equipment malfunctions, and sleepless nights, going straight from factory jobs to sonidero events, and often right back to work. He considered giving up the sonidero life. But his mother urged him on, reminding him that, if he wanted to be successful, he'd have to persevere.
One day, he was over the hump.
"In the blink of an eye, I began to get work," recalled. He paid off his debts, and his career took off.
"I like Kumbala, because he's always updating his music," said Elizabeth Campos, 23, of Queens, a fan since 1997. "He doesn't only play cumbias, but also reggaeton, duranguense, rancheras, bachata, rock, pop, English, Spanish." Fans also thank him for giving young Mexicans and Mexican-Americans a way to engage with one another and to express themselves.
"Kumbala, he looks out for us," said Alvaro Beltran, 21. "In July he held his tenth anniversary sonidero dance for free. Totally free! No one has ever done that before."
Miguel Angel Angeles is a graduate student at New York University's Center for Latin American and Caribbean Studies. A native of California, his interests include Chicano studies, popular culture and Mexican life in New York.