Posted by Elena del Valle on July 23, 2016
By Ismael El-Qudsi
CEO, SocialPubli.com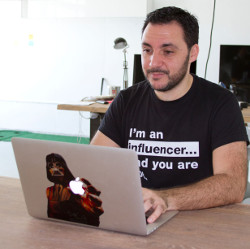 Ismael Elqudsi, CEO, SocialPubli.com
Photo: SocialPubli.com
Word of mouth has always been the best way to communicate a message and in the digital world in which we live, social networks provide a vast arena for communication, collaboration and interaction.
In this busy, crowded social media space, think of influencers as mini megaphones that help to amplify your brand's key messages and online presence. Their endorsements connect your brand to your target market, delivering powerful results at scale.
A recent study (adweek.com/prnewser/study-influencer-marketing-pays-6-50-for-every-dollar-spent/111584 ) revealed that influencer marketing pays $6.50 for every dollar spent. Marketers have taken notice and according to this infographic (theshelf.com/the-blog/2015/3/17/influencer-marketing-is-the-new-king-of-content) by The Shelf, 65 percent of brands now run influencer campaigns.
The influencer marketing space will continue to grow and evolve as marketers perfect their skills and decipher the best practices for campaigns.
Here are five key ingredients to keep in mind for your next influencer marketing campaign.
1. Identify the right influencers
The first step is defining who your target audience is so you can understand what impacts them and where they are located. Then, identify the influencers that will effectively connect your brand to this audience.
Is your target audience on Facebook, on Twitter or on LinkedIn? Which demographic group and geographic area are you trying to reach? These answers will dictate where you focus your influencer outreach efforts.
Keep in mind that the right influencers are not the ones with a large number of followers; instead, they are those who have the power to cause changes and influence decisions without directly forcing them to happen.
You are looking for true influence, not for numbers. A person with 500 followers may be more influential than one with 10,000 followers if that person has the trust of a close circle of friends.
According to Nielsen's Global Trust in Advertising study (nielsen.com/content/dam/nielsenglobal/apac/docs/reports/2015/nielsen-global-trust-in-advertising-report-september-2015.pdf), 83 percent of global consumers say they completely or somewhat trust the recommendations of friends and family. Two-thirds say they trust consumer opinions posted online.
That's why consumers look at other consumers, mainly family, friends and co-workers, to guide their purchasing decisions. They might be the influencers that you are looking for.
2. The power of authenticity
Authenticity is often times underestimated when it comes to online marketing, however, it should definitely be a key element of your influencer marketing strategy.
Consumers can immediately spot when a message is insincere and the first reaction is usually to ignore or reject it. According to a consumer study shared by Forbes (forbes.com/sites/danschawbel/2015/01/20/10-new-findings-about-the-millennial-consumer/#29b46e6528a8), for example, 43 percent of millennials rank authenticity over content when consuming news.
Encourage influencers to personalize the content in a way that naturally fits their lifestyles and personalities, while still reflecting your brand's persona.
Provide them with the creative room to come up with fresh new ways of describing your product or service. Their unique outlook will add value to your brand's proposition.
3. Timing is everything
When watching television or listening to the radio, we can see how different ads are placed along certain programming at specific times of the day. Influencer marketing should adopt what traditional advertising has known for a very long time. Timing is everything.
Maximize your brand's reach and engagement by capitalizing on key moments in time to engage with influencers in real-time. Activate campaigns surrounding big events, trending topics, or specific days of the week.
Consider trends in consumer habits. Below are a few examples:
• Important decisions are generally made on Mondays
• Grocery shopping usually happens on weekends
• Social media tends to be less active on weekends
It's about understanding the psychology of consumers and their behaviors at different moments in time.
Influencer marketing allows for the flexibility to launch a campaign exactly when your target audience will be watching. After all, this audience will most likely be on mobile and this opens the door to reaching them at various times of the day.
4. Think automation and scalability
It can be challenging and time-consuming to tap influencers one by one. This is why I highly recommend using an influencer marketing platform or marketplace to execute your campaigns.
Influencer technology has reduced the amount of manual work required to launch influencer campaigns, allowing for marketers to focus on the content and other key aspects of the campaign.
From finding the influencers, to contacting them, to managing and measuring campaigns, automated influencer marketing platforms streamline the process and offer a do-it-yourself agile solution that saves resources and dollars.
These platforms are a cost-effective marketing tool that delivers a strong ROI while producing scalable and authentic social content.
5. Define KPIs and track performance
Establish specific goals as to what you hope to accomplish with the influencer marketing campaign. Do you want users to comment on the post, download an app, visit a landing page, or share a photo using your hashtag? There are many objectives that you can set for your campaign, but they must all be measurable and trackable.
The ability to monitor the campaign's performance in real-time is another benefit of automated influencer marketing platforms. The technology behind these platforms facilitates the measurement and analysis of results, allowing you to optimize the campaign as you go and to devise new strategies for the future.
Ismael has been chief executive officer at SocialPubli.com since the startup was launched on July 2015. He is also CEO of Internet República, an online marketing agency and the parent company of SocialPubli.com.