Posted by Elena del Valle on January 12, 2015
By Josh Mayer
Chief Creative Officer
Peter Mayer Advertising
Josh Mayer, chief creative officer, Peter Mayer Advertising
Photos: courtesy Peter Mayer Advertising
When marketing agencies are working for clients, we often recommend that their messages need to be unique and stand out from the crowd – to zig while others are zagging. But it's not so easy when our agency IS the client. What is the message we want to send? What's our tone? How do we want to be perceived? Should we be silly, serious, zany, techy or corporate? Never is this question more relevant than when it comes time to create the dreaded holiday card.
In today's hypersensitive, politically correct world, you certainly don't want to offend. Or be preachy. And whether you want to admit it or not, your company's creative reputation is on the line. So faced with a heavy dose of scrutiny and expectations – most of it admittedly our own – we decided to be as different as possible, to find the white space others weren't playing in: New Year's Resolutions.
Our agency point of view is that every brand possesses capital – financial, human, intellectual and, most important, cultural. Cultural capital has incredible, results-generating power. It can't be logged in a spreadsheet or counted as inventory. But it's there and it can create deep, emotional connections between consumers and brands. So it was our approach to look at the culture of holidays and try to find a point of tension.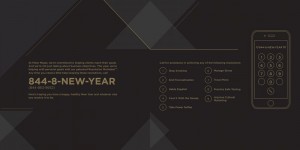 Holiday card Peter Mayer Advertising – click to enlarge
We recognized that one thing everyone had in common was that most everybody makes resolutions. Yet a little research showed that almost no one keeps them. So we decided to let our holiday card be a New Year's resolution card – a subject that we felt we could own. No competing heartfelt messages for Christmas, Hanukkah or Kwanzaa. No cute reindeer or snowflakes to illustrate. Instead, an old-school, low-tech phone tree offering nine ways to help our clients and friends keep those pesky resolutions. Best of all, it would come later, in the new year, after all those other holiday cards were being dumped in the trash or recycling bin. So we knew we would have a "larger share of mind."
Our overall goal was to entertain, stand out from the clutter of holiday messages and let people know we have a point of view. We wanted to show off our creative skills, so we wrote and recorded nine scripts. And we wanted to show off our mobile development skills, so our email blast is optimized for smart phones, desktops and tablets. To support the program, we created a landing page, peteramayer.com/emails/resolution-motivator
Recipients can call 844-8-NEW-YEAR (844-863-9932) to receive advice on a handful of common New Year's resolutions, including learning a new language, breaking a selfie addiction or even engaging in more culturally relevant marketing.
The platform of the phone tree also had the added benefit of giving us good data on the number of calls received, how long people spent on the phone and even where the calls originated from.
The big takeaway here is, use culture to find opportunities. And if you don't follow the herd, it will be easier to get noticed. Isn't that what we preach to our clients every day?
Before joining Peter Mayer in 1991, Josh worked on a number of national and international accounts, including Kodak Film, Burger King, McDonald's, Unilever Personal Products, Mobil and GlaxoSmithKline. He worked for some of the best New York shops – Dentsu, Young & Rubicam and J. Walter Thompson – before his talents took him to Bangkok, Thailand, where he created memorable campaigns for DDB Worldwide and J. Walter Thompson's most important international clients.