Posted by Elena del Valle on August 17, 2010
By Romano Richetta
Senior Vice President, Participant Services, TIAA-CREF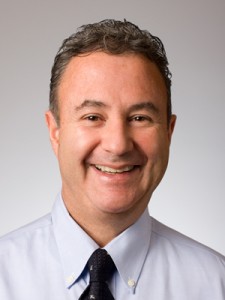 Romano Richetta, senior vice president, Participant Services, TIAA-CREF
Photo: TIAA-CREF
Baby Boomers, move over! Within the next 40 to 50 years, a very large number of Americans entering retirement will be Hispanic.1
Hispanics are younger than the general U.S. population; today less than 6 percent of U.S. Latinos are in retirement age less than half the percentage for non-Hispanic whites.2
Unfortunately, many Hispanics will not be prepared financially for retirement.
An October 2009 report of the Hispanic Institute and the Americans for Secure Retirement coalition found that only 25 percent of Hispanics are covered by employer-sponsored retirement plans, compared to 42 percent of non-Hispanic whites and 40 percent of African-Americans. When they reach retirement age, Hispanics often find that their savings do not stretch far enough; on average, Hispanics spend more than half of their retirement income (54 percent) on food and housing, while non-Hispanic white retirees spend just 11.4 percent of retirement income on these items, the report states.
Foreign-born Latinos are the first large group of the Latino population to begin approaching retirement age.3 This segment, which has the greatest and most immediate need for retirement-planning education, prefers Spanish, is the least acculturated and has the least knowledge about how to go about planning for retirement.
So, why do Hispanics participate less in retirement savings programs than do other groups?
First, there's the language barrier for some. Financial terms are confusing enough, even for those people who speak English. Trying to understand complex financial matters in an unfamiliar language compounds the dilemma. And, it is very possible that no one has ever bothered to talk to this group in Spanish about retirement planning.
Second, as a group, Hispanics tend to earn less than the rest of the population. Lower-income Hispanics often are concerned about making ends meet and providing for their families' day-to-day needs; they don't believe they make enough money for monthly contributions to a retirement plan. Others work in small or family-owned businesses without formal retirement programs.
Third, while many Hispanics do see the importance of preparing for retirement, there is often a gap between what they believe they will need and the reality of what they will be able to afford. TIAA-CREF's research showed that, unlike non-Hispanics who plan to downsize for retirement, many Hispanics want to have a larger house when they retire so that the entire extended family can visit. Yet, their savings habits are not in line with their goals. Some expect to rely on family to help out, or that Social Security, savings accounts, or even their real-estate holdings (for example, a ranchito in Latin America) will see them through retirement.
Finally, Spanish-preferred Hispanics often are not sure who to trust, or don't know where to go for retirement advice. Some Latinos come from countries where there is no widespread tradition of retirement saving or where there is even distrust of financial systems.
Seeing the benefits of our approach in action can be a powerful experience. Recently, one of our Individual Consultants met with a Latina woman to help her set her retirement-planning goals. During the session, she found out that her university employer had been putting money into her account for years and she had accrued $20,000! When she realized that she actually was on the road to being prepared for a comfortable retirement, she broke down in tears, then signed up to make her own supplemental contribution to her plan to make sure she is on target for the day she retires.
Through our Spanish-language initiatives, TIAA-CREF hopes to help make planning for retirement more of a consideration for U.S. Hispanics and Latinos. We're doing this by de-mystifying retirement by offering education, guidance and personalized advice in the language they prefer delivered in a way that is culturally relevant to them.
Romano Richetta has served as Senior Vice President of Participant Services at TIAA-CREF since July 2006. A native of Venezuela, Mr. Richetta oversees TIAA-CREF's Call Center and Field Consulting Group, totaling more than 1,400 employees.  He is a Registered Principal and Registered Representative (FINRA Series 7, 24).
TIAA-CREF Individual & Institutional Services, LLC and Teachers Personal Investors Services, Inc., members FINRA, distribute securities products. © 2010 Teachers Insurance and Annuity Association-College Retirement Equities Fund (TIAA-CREF), New York, NY 10017
1. "Hispanics and Retirement: Challenges and Opportunities," The Hispanic Institute and Americans for a Secure Retirement, October, 2009
2. U.S. Census, 2006 American Community Survey
3. Pew Hispanic Center Tabulations of 2007 American Community Survey