Posted by Elena del Valle on July 26, 2023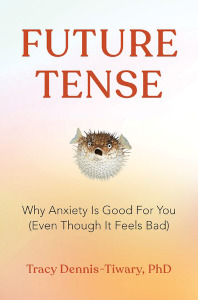 Future Tense
Photos: HarperCollins Publishers, Jenny Anderson
In Future Tense Why Anxiety Is Good For You (Even Though It Feels Bad) (Harper Wave, $29.99) Tracy Dennis-Tiwary, Ph.D. shares her views on the importance of anxiety in our lives. The 237-page hardcover book was published in 2022. She explains in the book that anxiety acts like fear yet contains qualities of hope.
The emotion addresses concerns about an uncertain future, the author says. As a result it causes us to become aware of potential threats and makes us see the discrepancies between where we are in the present and where we want to be in the future. According to Dennis-Tiwary, anxiety arises from the intersection of the brain's automatic, ancient and reflexive functions and its deliberative and cognitively sophisticated ones. Anxiety, she says in the book, provokes the production of cortisol as well as oxytocin.
Tracy Dennis-Tiwary, Ph.D.
The author says in the book that anxiety evolved to provide what we need, to "guide and motivate us to change situations" for our benefit while at the same time managing its built-in unpleasantness. According to her website bio Dennis-Tiwary is a scientist and entrepreneur as well as a professor of psychology and neuroscience, director of the Emotion Regulation Lab at Hunter College, The City University of New York, and co-founder of Arcade Therapeutics, where she translates "neuroscience research into gamified, clinically validated digital therapeutics for mental health."