Posted by Elena del Valle on August 13, 2013
By Chris McGinnis
Business travel expert
Best Western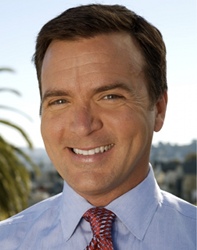 Chris McGinnis, business travel expert, Best Western
Photo: Melissa Wuschnig
Higher prices on airfare and lodging are a healthy indicator of the travel industry's comeback. In fact, most major airlines are reporting strong profits in recent quarters after several years of capacity reductions, consolidation and the addition of new fees.
As the industry continues to experience a revival, business travel costs are increasing across the globe. In the U.S. the average per diem for food, hotel and miscellaneous expenses in the top 100 cities rose to $262 this year, up 1.6 percent over last year. As businesses prepare for the fall business travel season, business owners and managers can prepare for the season and save the company's travel budget by considering the following:
Incorporate a company travel policy
As a business owner, even if you only have a few employees traveling, it's a smart idea to set up travel guidelines or a policy, and be sure your travelers are aware of it. Use this policy to set limits around hotel class, rental car size, airline class and which airline fees you are willing to (or not willing to) reimburse. Establish maximum amounts for meals and entertainment. And be sure to monitor and audit compliance at least once per year.
Remember the five-hour rule
Remember the five-hour rule in light of rapidly rising airfares and relatively flat gasoline prices. If it takes less than five hours to drive to the destination, it's best to drive instead of fly in order to save dollars and the added hassle. This is especially true if more than one employee is making the trip.
In addition to high fares, airlines are now assessing new fees, which add even more to the cost of air travel. For example, in May most major carriers increased the fee to change a nonrefundable ticket to $200–up from $150. And if you must check bags, the standard fee is now $25 for the first bag, $35 for the second.
Some smaller airlines, such as Frontier or Spirit, are even charging passengers for carry-on baggage that does not fit in the small space under the seat. Only Southwest and JetBlue do not charge a fee for the first checked bag. 
On the bright side, gasoline prices have tumbled over in the past year, and the U.S. Energy Information Agency does not expect the average price for a gallon of gas to top $3.63 this year–slightly less than last summer's average. With gasoline prices moderating, road trips might make a lot more sense this fall.
And while rental car pricing has also declined in the past year, smart shoppers should still check out each rental company's "web specials" page, or consider using last minute discount sites such as Autoslash.
If road travel is simply out of the question, signup for airline email alerts and follow brands on Facebook pages and Twitter to snap deals as soon as they're available.
Book travel mid-week
Travel dates make just as much of an impact as travel fare and lodging. Book business trips on Tuesday, Wednesdays or Thursdays when airfare tends to be the lowest. Try to avoid air travel during the peak summer travel season and plan your business trips during September, October or early November.
Booking flights and rooms during peak travel seasons also almost always means significantly higher prices. However, using timing to your advantage can help you avoid the most painful peaks. If possible, try to schedule summer business trips in early June or late August when demand is relatively low.
Bargain hunters should avoid travel during all of July if possible. Holiday travel may be an obvious red flag, but some weekends in July tend to be as busy as Thanksgiving or Christmas at airports. Depending on destination, there are some dips in demand and pricing during the weeks immediately following Memorial Day, July 4 or Labor Day.
Get the most bang for your hotel budget buck
When booking hotel stays, don't choose based on rate alone. Dig deeper to determine what extras are, or are not, included in the rate, such as parking, Wi-Fi or breakfast.
Avoid hotels that tack on "resort fees" or those that charge for Wi-Fi per device instead of per room (especially if traveling with colleagues or family with their own devices). When booking hotels, look for specials such as Best Western's Internet Only rates–which offer 10-30 percent off discounts in comparison to most others.
It's wise to avoid peak summer pricing at hotels by committing to a loyalty program and cashing those points in at the right time. Signing up for reward programs is the way to go if the company is frequently covering hotel costs.
Visit the road less traveled
Prices for hotels, food, transportation and entertainment in coastal cities such as New York, San Francisco and Boston have spiked in the last two years, but have remained flat or even decreased in lower-profile interior cities like Atlanta, Denver or Phoenix. Take this into consideration when planning meetings and scheduling trips and seek out the lower cost alternative when possible.
In addition to these cost-saving practices, remember to check out programs by travel suppliers for small businesses that may not have the clout to score hefty corporate discounts. It's important to remember that business travel costs are ultimately an investment to a company, but still maintain discrepancy when factoring costs vs. gain and help make travel expenses as efficient as possible for employees.
Chris McGinnis has tracked travel trends since 1989 in a variety of roles such as business travel columnist for BBC.com and travel correspondent on CNN Headline News, in addition to the Atlanta Journal-Constitution and Entrepreneur magazine. He is editor of YouMustBeTrippin.com and a regular contributor and commentator on CNN, HLN and Fox News and co-hosts the popular #TravelSkills chat on Twitter.