Posted by Elena del Valle on March 4, 2020
The scenery was breathtaking.
One my most vivid memories from a 2019 trip to the South Island of New Zealand was a private helicopter ride over the popular Tasman National Park. A little after breakfast, my pilot landed a 2008 Eurocopter EC120 helicopter on the property lawn at the intimate lodge where I was staying. I quickly bid fellow guests and the property owners good-bye.
Logan Moore, pilot, Tasman Helicopters in front of the Eurocopter EC120 before our departure
Minutes later Logan Moore, chief executive officer and pilot of Tasman Helicopters (Tangmere place, Nelson Airport, South Island, New Zealand www.tasmanhelicopters.co.nz, info@tasmanhelicopters.co.nz, +64 03 528 8075), and I were airborne. Although the vessel could accommodate four passengers I was the sole one that morning.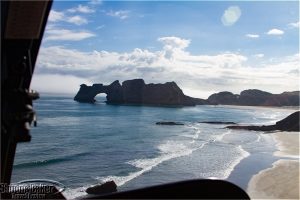 At Wharariki Beach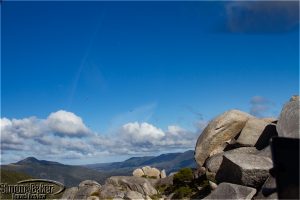 At the Mount Olympus Lord of the Rings film site
On our way to Motueka Airport to meet my guide we flew over the expansive and unspoiled property where I had stayed, the nearby pristine coast and the popular Tasman National Park. We also stopped twice, at Wharariki Beach and at the Mount Olympus Lord of the Rings film site. The scenery was beautiful, the flight smooth and pleasant. With the exception of the park we saw no people. Because of the beautiful scenery and comfort the flight was one of the highlights of the trip. It was a heady experience I would enjoy repeating and recommend to friends.