Posted by Elena del Valle on October 21, 2019
By Gabriela Lechin
Senior vice president
Global Results Communications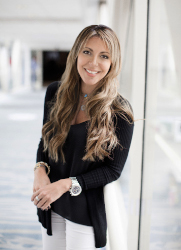 Gabriela Lechin, senior vice president, Global Results Communications
Photo: Global Results Communications
Despite accounting for less than 20 percent of the United States population, Hispanics accounted for 82 percent of the United States labor-force growth participation between the years 2010 and 2017. Gross Domestic Product (GDP) among Hispanics in America grew at a faster rate than the overall United States economy during this time, increasing from $1.7 trillion in 2010 to $2.3 trillion in 2017, according to the 2019 LDC U.S. Latino GDP Report by the California Lutheran University, making it the third-highest growth rate among all global economies during that period on a compounded annual basis. Some of the main influences powering this performance are Hispanics healthy growth in population, their increasing consumer spending and high labor-force participation. According to the report, the financial contribution of the Hispanic community in America will become progressively significant in the upcoming years of the country's economy.
Driving the economy forward
Situated at the forefront of the latest consumer trends and adoptions, the American Latino community offers a motivating vision into current and future global marketing trends. One reason, Hispanics are a younger United States population entering the labor force, while Baby Boomers are beginning to retire. Every year, half a million 65-year-old, non-Hispanic workers retire or leave the workforce, as one million Hispanics turn 18 and enter the workforce. Today, Hispanics are the youngest ethnic group in the United States, with a median age of 28, according to Key facts about young Latinos, one of the nation's fastest-growing populations from the Pew Research Center (September 13, 2018). Understanding how Latino youth influence behaviors in media consumption, their shopping habits in their prime spending years and the technology they use are critical for marketers and advertisers in the United States.
Another reason is that young Hispanics are also progressively more diverse than older Americans. It is expected that almost half of the millennial population in the United States will be multicultural by the year 2024, according to The Growth Majority: Understanding The New American Mainstream, a Claritas Report. This translates to a radically fast-changing landscape in the marketing, advertising and public relations industries. Moreover, within the United States Hispanic population, there are dozens of individual cultural identities. Although Latinos might share the same language, they are not tied to a single cultural identity contrary to the Irish and Italian when they migrated to the United States.
Culture as the strongest skill set
Marketers and public relations professionals aiming to reach younger consumers will have to customize their campaigns and messaging to include relevant trends and topics, distributing them at the right time and on the right platforms. United States Latino marketers are already ahead of the game. They understand the importance of identifying and targeting different micro-audiences within a seemingly identical group, modifying the message and altering their perspective. Hispanic communications professionals can quickly adapt and think outside the box, with chameleon-like qualities when it comes to business diversification. Mainly, Hispanics' success in the marketing and communications world, and business in general, can be partly attributed to their cultural trades. Hispanics are:
Resourceful: They are used to working with little or no resources at all and still make it work.
Dedicated and hard-working: Laziness and complaining about work are not usually part of their vocabulary.
Founded on interpersonal relationships: In the United States, it is referred to as Emotional Intelligence. For Hispanics, it is simply doing good business and a way of life.
Worldly and knowledgeable about other cultures, events, history, and general education: Hispanics can relate, target, develop and work on projects outside of their cultural domain successfully.
Bilingual and many times multilingual.
Entrepreneurial: Latinos believe in opportunity, taking risks for a better future, and are not afraid of a challenge. While the total number of non-Hispanic businesses decreased by five percent in the United States between 2007 and 2012, Hispanic-owned companies grew by 46 percent.
All about a positive attitude: Hispanics are a cheerful culture with an optimistic mindset, always trying to find the positive and good in everything in life.
To Hispanics, people matter more than business: Personal relationships carry more weight than in the United States. This is proven to be a successful approach, no matter where you do business. One example, why companies today with the best and most personal customer services are thriving. Consumers today are willing to stay with a company that may not provide the most advanced services, if it provides the highest level of personal customer support.
Personalization is key: Cookie-cutter marketing communications strategies are not successful with the Hispanic markets. Something that is not always the case among non-Latino industries.
All the above are key to being a successful marketer and communications professional. These are traits Hispanics don't need to learn; they are part of their day-to-day life and who they are as a community.
Gabriela Lechin is senior vice president at Global Results Communications. Her communications career spans 18 years and includes extensive and global experience in the tech, cybersecurity, intelligence, transportation, government, and sports industries; as well as global affairs, international relations and crisis management. A United States Navy Reserve Officer, Gaby holds a bachelor's degree in communications and a master's degree in national security and international relations.