Posted by Elena del Valle on February 2, 2019
By Mario Anglada
CEO
Hoy Health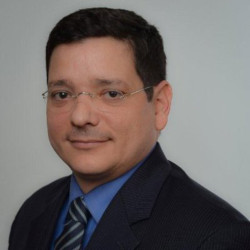 Mario Anglada, CEO, Hoy Health
Photo: Mario Anglada
Three trends pose a growing issue for Hispanics families in the United States: 1) Hispanics have the highest uninsured rates of any racial or ethnic group 1; 2) this community is projected to comprise almost 29 percent of the U.S. population by 2050 2; and 3) healthcare disparity for this underserved population persists in the form of barriers to care, including cultural/language barriers3, lack of access to preventive care, and the lack of health insurance. In 2015, 19.5 percent of the Hispanic population was not covered by health insurance, as compared to 6.3 percent of the non-Hispanic white population.
The good news is that proven technology is being used to leverage decades of health industry knowledge and improve access to care among Hispanic communities. These solutions and digital access align with Hispanic use of new technology tools: 84 percent of all Hispanics are online and Hispanic internet smartphone usage is 10.5 hours per week – 25 percent more than the national average.
Technology Solutions Meet Unmet Healthcare Needs
Today Hispanic consumers can access several cash-based primary care and pharmacy solutions, such as:
A medication voucher program that gives consumers the ability to pre-purchase generic medications at affordable price points. They can be purchased for personal use or gifted to a friend or family member either domestically in the U.S. and Puerto Rico, or internationally.
A free prescription savings card model allows cash-pay consumers to save a significant percent on brand name and generic medications across a wide network of pharmacies.
An end-to-end clinical solution for patients with diabetes, hypertension, asthma, and obesity that includes vouchers for medications, peripherals, testing supplies, tablet, apps, and access to lifestyle coach consults.
A bilingual telemedicine platform, which helps underserved populations access the healthcare they need with more ease.
These solutions give Hispanics access to care anywhere and at an affordable price, whether it's in the U.S., Puerto Rico or Mexico, in either English or Spanish, and without the need for any type of insurance or third-party payment.
A Closer Look at Healthcare Challenges
Consider the statistics4 related to Hispanic healthcare in the United States:
33 percent do not speak English well enough to navigate the current healthcare system
20 percent live under the poverty line and can't afford basic primary care needs
50 percent more likely to die from diabetes or liver disease
23 percent higher incidence of obesity than Caucasians
24 percent higher frequency of uncontrolled blood pressure than Caucasians
These numbers are especially significant given that only seven percent of U.S. physicians are Hispanic, and at least one-fourth of Hispanic adults in the United States don't have a primary healthcare provider.
One study that examined the ethnicity disparity in healthcare utilization and expenditures between Hispanic and non-Hispanics after controlling for confounding variables revealed that Hispanics with diabetes5 had higher poverty rates, lower education, less physical activity, and less healthcare utilization/expenditures than did non-Hispanics.
Cardiovascular
Hispanic Americans face higher risks of heart disease than Caucasian Americans due to higher rates of high blood pressure, obesity and diabetes.
Among Mexican-American adults, 33 percent 6of men and 31 percent of women have cardiovascular disease.
Cardiovascular disease causes more deaths for Hispanic Americans than all forms of cancer combined.
Hispanic women are significantly less aware than white women that cardiovascular disease is their leading cause of death.
Diabetes
The Centers for Disease Control and Prevention (CDC) 7reports that 50 percent of Hispanic adults in the U.S. are expected to develop type 2 diabetes, compared with 40 percent for non-Hispanic adults. Research 8has shown that ethnic minorities, especially Hispanics, have a disproportionate burden of illness associated with diabetes mellitus.
Obesity and Other Health Risks
Hispanics have higher rates of obesity9 – a risk factor for diabetes – than non-Hispanic whites. There are also disparities among Hispanic subgroups. For instance, while the rate of low birth weight infants is lower for the total Hispanic population in comparison to non-Hispanic whites, Puerto Ricans have a low birth weight rate that is twice that of non-Hispanic whites. Also, Puerto Ricans suffer disproportionately from asthma, HIV/AIDS and infant mortality, while Mexican-Americans suffer disproportionately from diabetes.
Given these challenges the time is ripe for helping Hispanic communities gain simplified access to quality health and wellness products. Innovative technology can enable these individuals to access care, learn about their health, determine their wellness needs, access low cost medications, manage their chronic conditions and engage in behavior modification solutions to help them lead healthier and more productive lives.

Mario Anglada has over 20 years of experience developed at leading Healthcare companies such as Procter & Gamble, Johnson & Johnson, Nestle Health Science, Univision Communications and now leads Hoy Health LLC.
1https://minorityhealth.hhs.gov/omh/browse.aspx?lvl=3&lvlid=64
2http://www.pewhispanic.org/2008/08/13/hispanics-and-health-care-in-the-united-states-access-information-and-knowledge/
3https://minorityhealth.hhs.gov/omh/browse.aspx?lvl=3&lvlid=64
4https://minorityhealth.hhs.gov/omh/browse.aspx?lvl=3&lvlid=64
5https://www.ncbi.nlm.nih.gov/pubmed/27669718
6http://www.your-heart-health.com/content/close-the-gap/en-US/heart-disease-facts/hispanic-americans.html
7https://www.cdc.gov/features/hispanichealth/index.html
8https://www.ncbi.nlm.nih.gov/pubmed/27669718
9https://minorityhealth.hhs.gov/omh/browse.aspx?lvl=3&lvlid=64