Posted by Elena del Valle on June 4, 2010
By Robin Blakely
Partner, Get There Media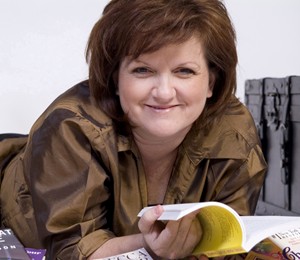 Robin Blakely, partner, Get There Media
Photo: Get There Media
So you have a book, you've established a Latino following, and now you have your eye on the mainstream marketplace. Here are four key things you need to know to leverage your culture and connections to keep your momentum mobilized.
1. Focus on a different kind of culture.
Stop thinking of your audience as Latino or not Latino. Transcend that way of thinking. Instead, think of your target market as gifted, or funny, or heartbroken, or entrepreneurial. Focus on who they are as clean freaks, or foodies, or mystery lovers, or knitters. Your audience—whoever they are—has a culture of its own that doesn't have to be described as Latino or non-Latino. Think about the culture your audience shares as a group. Without relying on a description that involves ethnicity, ask yourself:
• What group of people needs to know about what I do?
• How will knowing about my books, products, or services help them?
• Why do I care if they care?
2. Don't handicap yourself with an 'I'm-starting-over' mindset.
Marketing-wise, it's true that you're entering a new territory when you are trying to crossover from a Hispanic market to a mainstream market. But there's no reason to discount your experience. The marketing landscape is rocky for writers everywhere. Promotionally, you may be at a new starting gate in the mainstream market, but if you've run the book promotion race elsewhere, you aren't really starting over. You've got experience up your sleeve and you're more seasoned than some of your mainstream contenders. Own that professional experience. Look back over your accomplishments and repackage your achievements now so that you can start out in the fast lane.
Can you ask any of your Hispanic connections to help provide entree into the mainstream market?
Can you use past outreach strategies as a starting point in this new arena?
3. Speak up.
You must be able to consistently tell people who you are and what you do…very simply and very clearly. When possible, tell them with passion, style, and enthusiasm. Focus on giving information out that embraces your heritage…but be careful to showcase the part of what you do that means the most to your mainstream audience. Have sharp answers for these questions:
• What do you do?
• Why do people need that?
• What makes you different?
If you struggle over your answers, and come to the conclusion that the questions above don't really apply to you, think again. And think harder this time. For example if you write fiction, maybe people need your book to provide an entertaining escape from the stress of their everyday worlds through a great laugh, a romantic thrill, or an armchair adventure. Frame what you do and who you are around how you impact others.
4. Pick the people you want most in your audience.
You have the potential to win big opportunities in the mainstream marketplace, but you need to play your cards right. A big step is realizing precisely why and how to narrow down the scope of people you want as members of your mainstream audience. Narrow down? Yes, it's critical to understand that everyone in the mainstream world is not part of your target market. In fact, it's not about wanting everyone…it's really about not wanting everyone. So, before you lump your audience into one faceless, mainstream group called "everybody," consider this: The "everybody" mindset will undermine your promotional efforts and block opportunities for your success. Why? The 'everyone' mindset puts you in passive mode. So, don't wait for them to choose you. Instead, do your part to connect with exactly who you want.
Ask yourself
Who needs what I have?
How can I find members of my audience in easily accessible groups?
How can I cultivate these people as Facebook friends or Twitter followers?
What radio programs or magazines do these people enjoy?
Focus on connecting to people who can help cultivate your success. The sooner you understand that 'everyone' is not your customer, the sooner your success can grow and stabilize. Your clarity and focus actually work like a magnet to attract the mainstream audience, just as your clarity and focus has already worked for you in the Hispanic marketplace. The clearer you are, the more magnetic you will become to your audiences everywhere.
As you plan to approach the mainstream marketplace, remember that publicity is done best when it's done for people for the right reasons. The power of PR can genuinely change lives—including your own—for the better, forever. Build your PR mission on the belief that sharing what you do can help people who really need to know what you've got. When your promotions are authentically focused, the response you get back from the world—mainstream or Hispanic–will amaze you.
Robin Blakely, author of PR Therapy (see New York City consultant shares PR insights), is a partner at Get There Media. Robin builds business strategies that transform books into marketing tools for authors who are experts in their fields. Visit www.prtherapy.com.
---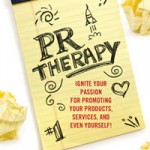 Click here to buy PR Therapy
---