Posted by Elena del Valle on October 13, 2008
By Brian Requarth
Founder, VivaReal.com
Brian Requarth, founder, VivaReal.com
Photo:  VivaReal.com
Can you imagine buying real estate before actually seeing the property? Believe it or not, real estate agent in Miami, Ines Hegedus-Garcia has had multiple clients from outside the country do just that and she owes it all to the Internet (and her great service of course). "About 30% of our business is foreign nationals and we expect that number to grow."
For international investors it is a perfect storm, dropping real estate prices and a relatively weak dollar against most major currencies is resulting in foreigners buying up single-family homes, condos and commercial real estate.
"Most of the foreign investors are paying cash, but we've found private lenders at higher interest rates for those that don't have the necessary down payment," states Ines. Most of her buyers are coming from Latin America and Europe and due to their geographic location their search for real estate starts online.
I have seen the traffic from our site VivaReal.us, a real estate site tailored to the U.S. Hispanic market, grow dramatically in terms of interest from the international community and approximately 50% of our visitors are from Spain and Latin America.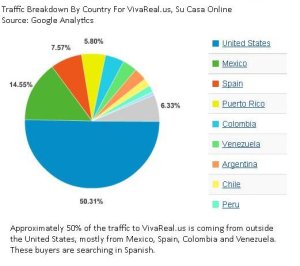 Website traffic by country of origin – click on image to enlarge
Data from the website reveals that Colombians and Venezuelans are primarily interested in Miami, New York and Los Angeles real estate, whereas the top markets for Mexican nationals searching online are San Antonio, Phoenix and Los Angeles.
According to Internet World Stats, Spanish speaking Internet users represent the third largest market segment in the world behind English and Chinese speakers and internet penetration has grown over 400% since 2000.
International buyers are web savvy using social media tools like blogs to do research and engage in the process. The Internet has made communication so much easier and real estate professionals that leverage things like video, VOIP (Voice Over Internet Protocol, basically technology that allows you to transmit voice through the Internet) and web portals targeting foreign buyers will have an edge over their competitors.
Spaniards represent another group of foreign buyers interested in U.S. real estate. From 1998 to August 2007 prices increased 10% annually and sometimes up to 30% according to the Spanish real estate portal Idealista, an even more dramatic appreciation than in the U.S.
With prices overinflated some analysts believe that Spain is even worse off than the United States causing some investors to cross the pond and put their money somewhere else. The Euro has been on a roller coaster in the last six months, but it is still on the high end when looked at during the last 4 years making real estate prices in the U.S. more attractive. Despite the troubles in the U.S. economy many international investors see the U.S. real estate as a good long term investment. AFIRE, a member organization of international investors with $700 billion in cross-border holdings, expects that investment in the U.S. to increase by 16% from last year's $230 billion mark.
There is a lot of speculation about when we will hit bottom, but the truth is no one really knows. We do know that in the current climate, we will most likely see more foreign investment coming from abroad and the Internet will play an important role in matching investors up with the right property. Most investors from Spain and Latin America will prefer to manage the transaction in Spanish so those bilingual real estate professionals have a clear advantage when reaching out to this growing market.
Brian Requarth is the founder of VivaReal.com, VivaReal.us and VivaReal.net, a series of real estate marketplaces (websites) for buying, selling and renting real estate in the Americas. He serves on the board of directors at NAHREP (the National Association of Hispanic Real Estate Professionals) where he advises about the Internet and technology.