Posted by Elena del Valle on April 20, 2016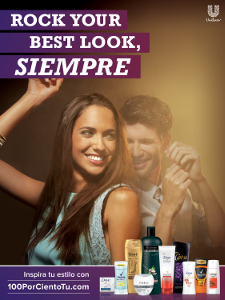 Unilever 100porcientotu campaign image
Photos: Unilever
To promote its Personal Care brands among Hispanics on social media Unilever staff launched #100PorCientoTu, a new bilingual campaign designed to promote "self-expression and individuality" in 2016. In developing the campaign executives relied on research from the company's Consumer Marketing Insights (CMI) team.

Company representatives declined to identify details such as campaign elements or specific channels, except to say that it "will be supported by earned and paid media." Planned components to date are the sponsorship of Nicky Jam's The Fenix Tour concert in New York City and the Hispanicize conference in April.

"With #100PorCientoTu, Unilever is merging two Latino passion points, music and style, to inspire Latinos to be their best selves, always," said Brian Critz, brand director, Multicultural for Unilever U.S. by email forwarded via the company's public relations company. "At Unilever, we've adopted a total market approach to reaching Latino consumers, recognizing that there is a wide range of nuance when connecting with Latinos."
Brian Critz, brand director, Multicultural for Unilever U.S.
When asked about the target audience for the campaign he said, "With the #100PorCientoTu campaign, we want to celebrate the diversity and dynamism of the Latino community in the U.S., especially among millennials, whose identity is deeply tied to their culture, self-image and aspirations."

Unilever hired a team of beauty and grooming influencers and experts like Denise Bidot, described as an international plus sized model, and Marcos "Reggae" Smith, described as a celebrity barber, and Leonardo Rocco, described as a celebrity stylist, to provide their views on beauty and grooming trends and tips at the campaign's English language website, 100PorCientoTu.com. Some of the company's Personal Care brands are Axe, Dove, Suave, Pond's, TreSemme, Degree and Caress.

According to a recent company press release, Unilever is a leading supplier of Food, Refreshments, Home and Personal Care products with sales in more than 190 countries and reaching 2 billion consumers a day. In the United States, some of its brands are: Axe, Ben & Jerry's, Breyers, Caress, Clear Scalp & Hair Therapy, Country Crock, Degree, Dove personal care products, Fruttare, Good Humor, Hellmann's, and I Can't Believe It's Not Butter!; Unilever employs approximately 8,000 people in the United States; and in 2015, the company generated more than $8.5 billion in sales.