Posted by Elena del Valle on August 1, 2012

New York International Latino Film Festival 2012 Serial Killer Movie Recipe ad – click to enlarge
Video, photos: Wing
Hoping to reach New York City Urbanites between the ages of 25 and 45 the 2012 HBO New York International Latino Film Festival (NYILFF) with the pro bono help of Wing, a marketing communications agency, launched a print and television ad campaign aimed at broadening the appeal of the NYILFF, running August 13-19, 2012 in New York City. Scroll down to watch a 30-second video ad for the 2012 campaign.
"The overall reach of the campaign has been far. We have been picked up by a great deal of pubs including Creativity, TrendHunter, Ihaveanidea.com, Latinspots, Ads of the World, among others," said Marieugenia Cardenas, assistant account executive, Wing.
New York International Latino Film Festival 2012 Chick Flick Movie Recipe ad – click to enlarge
Thirteen people under the supervision of Tania Salter, vice president and head of Production at Wing, worked on the campaign this year producing six print ads and two television spots. Some ads ran as public service announcements and some as paid advertisements in theaters. To date ads have aired on NBC, Telemundo, and Clearview Cinemas.
The campaign, in English and Spanish, pokes fun at Hollywood cliches, relying on the tagline "Some movies are easy to make. Films are a different story." The stereotypical Hollywood movie types the campaign makes fun of are: Sports Comeback, Serial Killer, Chick Flick, Buddy Cop and Alien Invasion themes.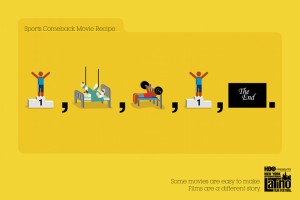 New York International Latino Film Festival 2012 Sports Comeback Movie Recipe ad – click to enlarge
"We were trying to attract people who normally don't go to this festival (who don't necessarily speak Spanish) while at the same time not alienating the core audience (who does speak Spanish)," said Cardenas.
This is the second year the festival is partnering with Wing. Last year the campaign poked fun at Hollywood movies for casting Latinos only in roles like maids, gardeners, and fruit stand vendors (see With video NY Latino Film Festival ad campaign makes fun of Hollywood cliches).
According to promotional materials, the campaign went viral through earned media, becoming the top story on Trendhunter and Buzzfeed, and garnered 29 million impressions. Dating back to 1999, the NYILFF strives to showcase the work of emerging Latino filmmakers in the United States and Latin America.