Posted by Elena del Valle on November 5, 2012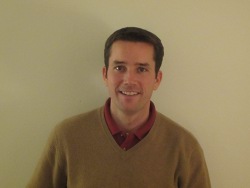 Kevin O'Shea, brand manager, Gold Eagle Co.
Photo, video: Gold Eagle Co.
Gold Eagle Company released Chainsaw Psycho, a national television and online ad, a spoof of the 1974 cult chainsaw massacre movie, to promote its brand of fuel-system revitalizers, Start Your Engines! Shot in Conestogo, Canada and produced in one week by five people under the supervision of Matthew Ninaber, a Poptent community member, and his team at High-Rise Studio in Ontario, the ad was designed for a target audience "not limited to but mostly for men" and "people with a sense of humour." Scroll down to watch the ad video.
"We wanted to do something entirely different with this TV spot to illustrate how Start Your Engines! works and overemphasize its immediate solution to those untimely life moments when your small-engine equipment malfunctions," said Kevin O'Shea, brand manager, Gold Eagle Co. "This TV spot also marks an exciting new direction for Gold Eagle's marketing approach."
In the Halloween-themed spot a chainsaw killer is about to take his next victim only to discover his chainsaw won't start. The victim, lying on the floor awaiting his doom, gives the killer advice for small engine trouble shooting and offers the killer a bottle of Start Your Engines! The spot concludes with the victim extolling the benefits of the product just before the chainsaw starts.
The commercial appeared on YouTube and aired on national television in October 2012 on HGTV shows, Property Brothers, House Hunters International and Yard Crashers, and the DIY network on Yardcore, House Crashers and The Vanilla Ice Project. Marketing executives for the company estimate landing page traffic went from nothing to 692 views between September 1 and October 28 of this year. YouTube analytics, a spokesperson shared, indicate that viewership of the spot was just under 23,000 views. Gold Eagle Co. is a privately held Chicago based maker of engine maintenance fluids and fuel additives.