Posted by Elena del Valle on October 25, 2018
First of occasional travel notes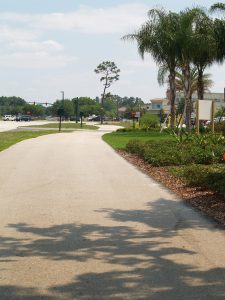 A section of the Seminole-Wekiva Trail, a 14-mile rail trail in Seminole County, Florida (click on the photo to enlarge)
Photos: Seminole County Parks & Recreation
One of the discoveries I most enjoyed during a recent trip to Lake Mary, Florida was the Seminole-Wekiva Trail, a 14-mile rail trail, which includes Altamonte Springs, Longwood, Lake Mary and Sanford in the central part of the Sunshine State. It runs alongside the abandoned tracks  of Florida's old Orange Beltway Railway, at one time the longest railroad in the country.  Although I don't recall seeing the tracks I noticed a small metal sign with the name of the trail.
It couldn't have been more convenient as it passed by the front of my hotel (Westin Lake Mary Orlando North), curving through busy suburban streets, past water features and at times weaving beneath shady tall trees dressed with Spanish moss. My favorite part, I didn't see the entire trail, was the canopied section that traversed a nearby residential area, offering views into the grassy backyards of some of the homes.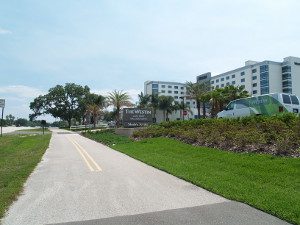 The Seminole-Wekiva Trail is part of the Florida National Scenic Trail.
The Seminole-Wekiva Trail is part of the Florida National Scenic Trail, a federally designated, non-motorized, recreation trail that spans approximately 1,300 miles across some of the state landscapes. According to the trail website, the trail end points are: Markham Road near CR 46A (Wekiva River Protection Area) (Longwood) and FL 436 near Laurel St. (Altamonte Springs). I wish we had a similar trail in my neighborhood.
Along its paved path I saw many locals walking their dogs, riding their bicycles (sometimes a bit aggressively), walking and jogging. In the greenest sections, where it was cool and shady, I heard birds calling and nature sounds. Exploring the trail was one of the most pleasant activities during my brief visit to Orlando North.