Posted by Elena del Valle on March 22, 2023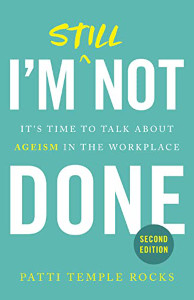 I'm Still Not Done
Photos: Patti Temple Rocks
Patti Temple Rocks, a communicator with four decades of experience, according to her biography, is troubled by corporate ageism. In the second edition of "I'm Still Not Done: It's Time to Talk About Ageism In The Workplace (Lioncrest Publishing), a 237-page paperback nonfiction title published last year, she discusses her experiences with ageism and her views on combating it.
Patti Temple Rocks, author, I'm Still Not Done
"Ageism is the only form of workplace discrimination that all of us are susceptible to," Temple Rocks said in a book related press release. "The sad truth is that organizations who don't value their older workers are missing out on the unique wisdom and dedication that these employees bring to the table."
As of this writing the author is unavailable for an interview according to a publicist who responded by email. She didn't respond to questions submitted to her publicist.
The book is divided into nine chapters. According to promotional materials Temple Rocks has held senior leadership positions in three sectors of the communications industry: public relations, advertising, and client side; she served as chief communications officer for The Dow Chemical Company, and chief reputation officer for Leo Burnett Worldwide. She is a self-described public speaker and consultant.