Posted by Elena del Valle on May 31, 2007
Marissa Lopez, West Coast assistant manager, Peermusic
Photo: Peermusic
Los Angeles, California – Independent music publisher peermusic promoted Marissa Lopez to West Coast assistant manager, peermusic Latin. Lopez was formerly West Coast creative assistant for the Latin Division. In her new role, she will oversee administrative activities for the West Coast Latin division of peermusic and work closely with talent.
 
She will be responsible for new artist recruitment, song placement, and maintening peermusic's existing Latin roster. In addition to nurturing the careers of artists such as Upground, Charanga Cakewalk and Los Pinguos, Marissa will work in tandem with peer's Spanish-language catalog.
 
"Marissa has played an integral role in the growth of the Latin Division of peermusic, and in her new role she will continue to keep peermusic at the cutting edge of the Latin industry," said Yvonne Gomez, Latin creative director for peermusic West Coast and Mexico. "We are so proud of her and feel honored to have someone with Marissa's talent and unparalleled work ethic as part of the peermusic Latin team."
 
Born and raised just outside of Los Angeles, Marissa joined peermusic in 2003. Prior to joining the music publisher, Marissa worked for La Banda Elastica, a Latin rock magazine and marketing firm; where she directed promotions, oversaw LBE Group marketing campaigns for various corporate clients including Bromley Corp., Arenas Group, Tower Records, Watcha Tour and Batanga. She was also executive assistant to the company presidents. 
Founded by Ralph S. Peer in 1928, peermusic is a global network of music publishing companies operating from 35 offices in 27 countries. With a quarter of a million country, blues, jazz, pop, Latin, and rock 'n' roll titles in the company's catalogue, peermusic is one of the largest privately owned companies of its kind in the world.
---
Reach Hispanics online today with
"Marketing to Hispanics Online" audio recording
Identifying and characterizing the booming Hispanic online market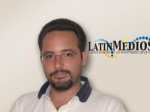 Joel Bary, Alex Carvallo and Matias Perel
Find out about
• The 16 million Latino online users
• Latino online users by gender
• What they do online
• Their language preferences
• How to reach Hispanic urban youth online
• What affects their online behavior
• What influences their purchases
Click here to purchase an audio recording about marketing to Hispanics online
---