Posted by Elena del Valle on May 24, 2007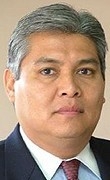 Frank Escobedo, associate publisher, The Business Press and La Prensa
Photo:  Press-Enterprise Company
Frank Escobedo was recently appointed associate publisher of The Business Press and La Prensa. The new position was created to consolidate the Affiliated Products Group of The Press-Enterprise Company; to extend and expand the company's affiliated products; and to develop and launch other targeted niche media products for the communities and businesses in the fast-growing inland southern California marketplace.
"Frank is a well-rounded media executive and brings a wealth of experience, a strong record of success, innovation and a passion for serving the business and Latino communities," said Ron Redfern, chief executive officer of The Press-Enterprise Company. "It's a privilege to have someone of his talent leading the growth of our affiliated products group, and we're delighted he has joined our team."
Escobedo most recently served as general manager of La Voz Publishing, LLC, where he led the Hispanic initiatives for The Arizona Republic. During that time, he developed and grew a number of Spanish-language media products for the Phoenix community. He began his career with the Laredo Morning Times, where he occupied a number of positions in advertising, eventually becoming vice president and general manager. During his tenure at the Laredo Morning Times, he increased revenue and spearheaded a team that created a Web presence for the paper.
"I am very pleased to be joining The Press-Enterprise Company, and I look forward to working in the dynamic community of the Inland Empire," said Escobedo. "The PE has a reputation for outstanding journalism, a commitment to community, and I pledge to continue to uphold the high standards already in place. My family and I also look forward to becoming active members of the community and making this area our new home."
The Press-Enterprise Company is a subsidiary of Dallas-based Belo Corporation. A Fortune 1000 company, Belo owns 19 television stations, four daily newspapers. The Company also owns or operates seven cable news channels and more than 30 websites.
---
Discover how to reach Latinos in language today with
"Hispanic Market Translation Issues" audio recording

Presenter Martha E. Galindo
Translation company owner Martha E. Galindo explains
Why it's important to reach your clients in language 

Ins and outs of translations issues

How to select a translator

How to save on translation costs
Click here to purchase Hispanic Market Translation Issues
---