Posted by Elena del Valle on March 6, 2023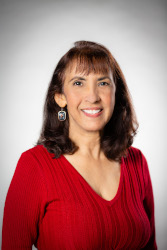 Bárbara C. Cruz, Jeff Houck and Andrew Huse, authors, The Cuban Sandwich
Photos: University Press of Florida, Andrew Huse photo by Rion Sabean
A podcast interview with Bárbara C. Cruz, Jeff Houck and Andrew Huse, authors of The Cuban Sandwich: A History in Layers (University Press of Florida, $24,95) (see Three unite to explore Cuban sandwich history in new title), is available in the Podcast Section of Hispanic Marketing and Public Relations, HispanicMPR.com. During the podcast, they discuss the Cuban sandwich and their book with Elena del Valle, host of the HispanicMPR.com podcast.
Cruz is professor of Social Science Education at the University of South Florida (U.S.F.). She has been a faculty member since 1991, teaching undergraduate and graduate courses, conducting research on global and multicultural issues.
Houck is vice president of marketing for the 1905 Family of Restaurants in Tampa. He spent 25 years in newspaper and multimedia journalism, most recently as a features editor, food writer and podcaster at the Tampa Tribune. He has written for Thrillist, FoxSports.com, The Palm Beach Post, The Miami Herald and The Anchorage Times.
Huse is curator of Florida Studies at the University of South Florida Libraries. His other books include The Columbia Restaurant (2009) and From Saloons to Steak Houses: A History of Tampa (2020).
To listen to the interview, scroll down and click on the play button below. It is also possible to listen by looking for "Podcast" then select "HMPR Barbara Jeff Andrew" and download the MP3 file to your audio player. You can also find it on the RSS feed. To download it, click on the arrow of the recording you wish to copy and save it to disk. The podcast will remain listed in the March 2023 section of the podcast archive.