Posted by Elena del Valle on February 22, 2023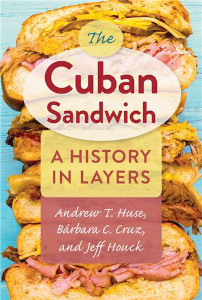 The Cuban Sandwich
Photos: University of Florida Press, Andrew Huse photo by Rion Sabean
Bárbara C. Cruz, Jeff Houck and Andrew Huse, three Florida Cuban sandwich aficionados, teamed up to research and write a book about the popular hand food. In The Cuban Sandwich (University Press of Florida, $24.95), a 167-page paperback book published last year, they explore the origins and evolution of the famed sandwich popular among many Floridians.
When asked how many months or years the book project required Andrew Huse replied by email: "I started with more than a year of sustained research, followed by the collaboration with my co-authors, which lasted another year, including peer review."
"I published previous work woith Univbersity Press of Florida before and I like to work with them," Huse said when asked about finding a publisher. "Before that, I offered it to another academic press, but they didn't seem to know what to do with it."
Their primary target audience? Huse said, "Sandwich and history fans!"
"I measure our success by the end product, which I am happy with," said Huse when asked how he will measure success."All sales and attention are a bonus!" Houck's reply to the same questions is "Adding a page to the history of this great sandwich and the people who created it and find new ways to make and celebrate its greatness is its own reward."
When asked whether they received compensation of any kind from third parties to be included in the book Houck's said, "No. As I said, I am Vice President of Marketing for the Columbia Restaurant and the 1905 Family of Restaurants, but at no time was I compensated by them for inclusion in this book."
Cruz is professor of Social Science Education at the University of South Florida (U.S.F.). Houck is vice president of marketing for the 1905 Family of Restaurants in Tampa. Huse is curator of Florida Studies at the University of South Florida Libraries.