Posted by Elena del Valle on January 21, 2019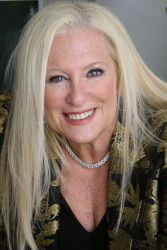 Linda Jane Smith, author, Lessons from The Meanest Woman Alive
Photo: Linda Jane Smith
A podcast interview with Linda Jane Smith, author, Lessons from The Meanest Woman Alive (see Lawyer shares advice with women on breaking glass ceiling) is available in the Podcast Section of Hispanic Marketing and Public Relations, HispanicMPR.com. During the podcast, she discusses how women can unleash their power with Elena del Valle, host of the HispanicMPR.com podcast.
Linda strives to strike fear into the heart of opposing counsel. According to her resume, she is one of the top five female litigators in the United States. She is teaching working women in varied fields to shine, lead and succeed, not by leaning in or out manning the men, but by using their unique feminine advantages to advance their careers.
To listen to the interview, scroll down until you see "Podcast" on the right hand side, then select "HMPR Linda Jane Smith" and click on the play button below or download the MP3 file to your iPod or MP3 player to listen on the go, in your car or at home from the RSS feed. Some software will not allow flash, which may be necessary for the play button and podcast player. If that is your case, you will need to download the file to play it. To download it, click on the arrow of the recording you wish to copy and save it to disk. The podcast will remain listed in the January 2019 section of the podcast archive.
---
Click to buy Smashing Glass & Kicking Ass
---