Posted by Elena del Valle on May 18, 2017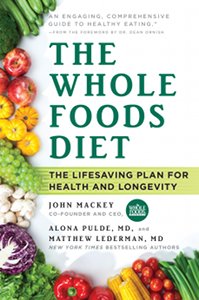 The Whole Foods Diet
Photos: Whole Foods Market, Grand Central Life & Style
John Mackey, co-founder and chief executive officer, Whole Foods Market joined forces with Alona Pulde, M.D. and Matthew Lederman, M.D., the latter two known for their Forks Over Knives film and books, to publish The Whole Foods Diet The Lifesaving Plan for Health and Longevity (Grand Central Life & Style, $28). The 336-page hardcover book, published this year, features the Whole Foods Market logo on the cover next to Mackey's name.
Alona Pulde, MD and Matthew Lederman, MD, co-authors, The Whole Foods Diet
The book is divided into three parts and 15 chapters. Following an introduction by Mackey the authors speak mostly (a final chapter also is in Mackey's voice) with a single voice, starting with an introductory section on diet and health. A second section outlines their ideas about food and their food group preferences. The remaining two chapters are dedicated to a 28-day meal plan. According to a representative from their publisher, the authors were too busy to respond to questions by email.
Although all three are vegan, they believe a diet consisting of 90 percent vegetables is healthy. Their approach to health begins with eight main food groups: Whole grains and starchy vegetables, beans and legumes, berries, other fruit, cruciferous vegetables, leafy greens, nonstarchy vegetables, and nuts and seeds. The authors dedicate an entire chapter to the groups and their beliefs about each. They dedicate another entire chapter to the ethics of being vegan.
John Mackey, co-author, The Whole Foods Diet
Mackey is co-author of Conscious Capitalism. Pulde is a board-certified practitioner of acupuncture and Oriental and family medicine. Lederman is a board-certified internal medicine physician. Pulde and Lederman were featured in Forks Over Knives and co-authored the New York Times bestseller The Forks Over Knives Plan.
---
Click to buy The Whole Foods Diet
---