Posted by Elena del Valle on November 14, 2011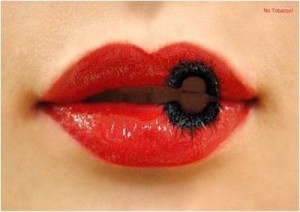 World No Tobacco campaign ad
Photos: vi.sualize.us, Campaign for Tobacco-Free Kids
Some 400,000 people die each year from their own cigarette smoking and another 50,000 adult nonsmokers die each year from exposure to secondhand smoke; there are six million children under 18 alive today who may eventually die from smoking; and 8.6 million people in the United States currently suffer from smoking-caused illness, according to the Campaign for Tobacco-Free Kids, a Washington, D.C. based nonprofit advocacy organization that strives to save lives by advocating for public policies that prevent kids from smoking."
Many young Americans, whites and Hispanics may be opposed to smoking. More than half of respondents to a national telephone survey of 1,110 registered voters conducted October 23, 2011 disapproved of people who smoke; 52 percent of respondents asked whether they frown on people who smoke said yes, 31 percent said they did not and 17 percent had no opinion. Young survey participants, in the 18-29 year old age group, were the most likely, at 63 percent, to say they frown on smokers.
Although 54 percent of white respondents and 48 percent of Hispanic respondents said they disliked smokers, 51 percent of African-Americans said they do not frown on people who smoke. Among women respondents 53.2 percent said they frowned on smokers compared to 50.5 percent of men who said they frowned on smokers.
Two-thirds of voters polled supported increasing the state tobacco tax – click to enlarge
Curiously political orientation had little influence on opinions about smokers among respondents of that survey. The difference between Republicans, 54 percent, and Democrats, 53 percent, not happy with smokers was only 1 percent while fewer Independents, 48 percent, said they frowned on smokers. The survey was conducted and paid for by Poll Position, a non-partisan news, polling, and social media company.
A January 2010 national telephone survey of 847 registered voters conducted through an International Communications Research Excel study indicated that two-thirds of voters polled supported increasing the state tobacco tax by $1.00 per pack.
An older national survey, from 2006, of 1,000 likely general election voters with an oversampling of black and Hispanics voters found Hispanics to be the most supportive of smoke-free laws. In the Mellman Group survey 69 percent of respondents said they favored smoke-free laws; 69 percent of whites, 65 percent of blacks and 78 percent of Hispanics favored such laws. More women, 74 percent, than men, 64 percent, more Democrats, 73 percent, than Republicans, 67 percent, favored the smoke-free laws.