Posted by Elena del Valle on June 27, 2012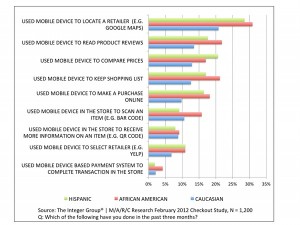 African Americans, Hispanics adopting mobile shopping behaviors – click to enlarge
Photos, chart: Network Communications
With the increasing popularity of smartphones (mobile phones that combine the features of a cell phone and a computer) and mobile devices marketers want to know if mobile buying behaviors are prevalent among the owners of these gadgets. Estimating that smartphone penetration is nearing 50 percent in the United States, in February 2012, The Integer Group and Marc Research surveyed 1,200 people online, in English, as part of an ongoing shopper behavior study.
One of the salient findings of their survey was that African American and Hispanic shoppers who participated in the survey appear to adopt shopping technologies at a faster rate than Caucasian (non Hispanic white) respondents. Among survey takers 18 percent of African American shoppers and 16 percent of Hispanic shoppers said they use their mobile device to make purchases compared to 10 percent of non Hispanic whites.

Martin Ferro, senior account planner, Velocidad
One in five African American shoppers (21 percent versus 13 percent of Caucasian shoppers) said they use their phone to read product reviews and maintain shopping lists, and one in five Hispanic shoppers (20 percent versus 13 percent of Caucasian shoppers) said they use their mobile device to compare product prices. The researchers believe that in spite of lower smartphone penetration among African Americans and Hispanics than Caucasians, the two ethnic groups, and women shoppers in particular, are using mobile phones as shopping aids.
"Basic mobile communication through SMS and mobile websites should be the points of entry. Mobile marketing to multicultural shoppers is a huge opportunity," said Martin Ferro, senior account planner, Velocidad, a Hispanic promotional, retail and shopper marketing capability of The Integer Group.

Ben Kennedy, group director of Mobile Marketing, Integer
The survey also revealed that nearly as many shoppers said they are using coupons from email and e-newsletters (49 percent) as said they are from the Sunday paper (57 percent). Respondents in households with children seemed more likely to overcome adoption barriers of digital technologies in favor of shopping solutions.
"Digital shoppers are just shoppers," said Ben Kennedy, group director, Mobile Marketing, Integer. "Digital shopping tools are illustrative of the continued blurring of the on- and offline spaces. Today's reality is that shoppers use whatever tools they have on hand to make them smarter, savvier shoppers."
In the surveys, consumers were asked about their shopping attitudes, shopping behaviors, and economic outlook as well as the criteria shoppers use to select retailers, which in-store stimulus is most likely to drive purchase, and factors that might lead shoppers to leave an aisle empty-handed. 
The Integer Group is a large promotional, retail, and shopper marketing agency, and a member of Omnicom Group Inc.