Posted by Elena del Valle on September 18, 2009
In Twitter Tips, Tricks and Tweets (Wiley, $19.99) Toronto resident Paul McFedries shares step by step insights on Twitter. He wrote the book for beginners and those who have been Twitter fans and want to expand their knowledge. The book is filled with photos of the website and related media illustrating the author's text and instructions. He starts out with very basic information to introduce first time users to Twitter, the growing and increasingly popular social media website.
From there he progresses, explaining how to add a picture, theme and background image to an account; send account updates; manage the 140-character limit and use non standard characters; follow Twitter etiquette; make updates private; use hashtags; find and follow people; retweet; understand and use Twitter's mobile phone feature; find information on Twitter; use Twitter Scan, Twitterfall, TweetGrid, Monitter and others; share your Twitter presence and updates on other websites; use TweetDeck, twhirl, and Twitter websites like iTweet, Tweetree, and Tweetvisor; use Twitter gadgets and widgets; use tools to extend Twitter by shortening URLs, sharing photos, videos and music; post to multiple social networks; follow Twitter trends; and get your Twitter account ranking.
The 249-page paperback book is divided into nine chapters: How Do I Get Started with Twitter? What Can I Do to Customize My Twitter Profile? How Do I Send Twitter Updates? How Do I Follow Other Twitter Users? Can I Use Twitter on My Mobile Phone? How Do I Find Stuff in Twitter? Where Can I Display My Twitter Feed?  How Can I Take Twitter to the Next Level? and What Tools Can I Use to Extend Twitter?
McFedries, who wrote his first computer book in 1991, has 60 titles to his name and combined sales of more than three million books. He owns Word Spy, a website about words and phrases.
---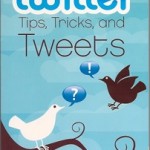 Click here to buy Twitter Tips, Tricks, and Tweets
---