Posted by Elena del Valle on June 7, 2010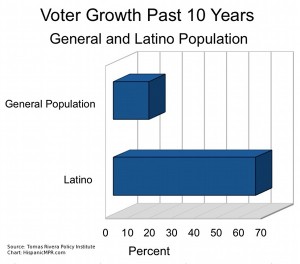 Click on image to enlarge
Photo: Tomas Rivera Policy Institute
In the past ten years the Hispanic vote has increased 64 percent from 5.9 million to 9.7 million voters. Compared to the overall population of over 300 million that may not seem like much. On the other hand, the vote of the general population has only increased 16 percent in that same time period. If that growth pattern continues in the decades to come Hispanic voters will have an increasingly loud voice in political matters.
What impact will Hispanic voters have on future elections? For years political candidates, seers, and pundits have speculated and tried to curry favor among Latinos. As the Latino population grows, especially United States born Hispanics and naturalized citizens and their children who are able to vote, this question will become more relevant. Lately, given the increasingly controversial immigration and immigration enforcement issues facing the nation and Latino's strong stance on them Latino voter participation may be more noticeable than ever.
Last week, the Tomás Rivera Policy Institute at the University of Southern California (TRPI) released new data that addresses the potential importance of the Latino vote in some states. The Institute researchers examined data from the United States Census for the 2008 elections to estimate the percent of the Hispanic vote it would take to cause a 1 percent shift in the statewide election in the eight states with the largest Hispanic population. According to their analysis, a shift of 2.3 percent of Hispanic voters in California to another statewide party or candidate "results in that candidate increasing their percent of the overall vote and conversely decreasing the percentage of the vote for the opposing candidate."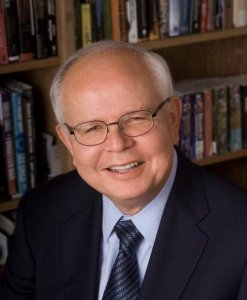 Harry Pachon, president, Tomas Rivera Policy Institute
"Various national surveys indicate that while sixty plus percent of the general electorate favor local immigration enforcement, close to three out of four Hispanics oppose such policies due to fear of discrimination," said Harry Pachon, PhD, president, Tomás Rivera Policy Institute. "Will Hispanic voters remember this issue in the fall and associate it with parties or candidates when general elections are held in November?"
Founded in 1985, the Tomás Rivera Policy Institute (TRPI) mission is to advance informed policy on "key issues affecting Latino communities through objective and timely research contributing to the betterment of the nation." TRPI is an affiliated research unit of the University of Southern California School of Policy, Planning, and Development, and is associated with the Institute for Social and Economic Research and Policy at Columbia University.