Posted by Elena del Valle on March 9, 2017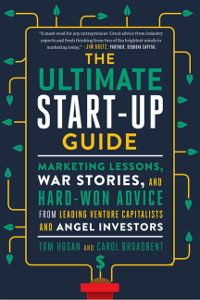 The Ultimate Start-Up Guide
Photos: Ty Nowicki, Robin Bulanti
Silicon Valley marketers Tom Hogan and Carol Broadbent, founders, Crowded Ocean, recently released The Ultimate Start-Up Guide: Marketing Lessons, War Stories, And Hard-Won Advice From Leading Venture Capitalists And Angel Investors (Career Press, $16.99), a how-to book to help start-up companies succeed published this year. What do they know about start-ups and failure? During their initial year they made zero money. Ninety percent of new companies, they point out, fail within two years.
They explained by email that they wrote the book, their first, for "Anyone who is thinking of starting their own company—tech or otherwise; anyone thinking of getting involved in a startup; or anyone who wants to better understand how startups (and Silicon Valley) work."
From concept to final galleys it took them one year to complete the book project. The 223-page softcover book, written in an easy to read candid style, is divided into 24 chapters. In the chapters, there are graphs to illustrate information or outline data and easy to see quotes from business people in gray boxes. At the end of each chapter there is a suggested reading list
The authors set out to incorporate lessons from dozens clients as well as venture capitalists and angel investors, to help entrepreneurs avoid the pitfalls that cause most start-ups to fold. They address strategies for hiring and building a team, culture, and values; how to pitch the company, secure funding, and distribute equity; best practices in launching a business and sustaining market momentum; and how they believe venture capitalist investors think, evaluate new companies, and advise entrepreneurs. Although in the first chapter they outline their firm belief in the importance of a sales driven marketing strategy, they also value public relations, Broadbent explained by email. 
"As we tell our startup clients, PR is probably the highest ROI marketing investment you can make and a great source of lead generation," she said. "That's because editorial coverage of your company, product or service is perceived by would-be buyers as objective validation. In other words, favorable coverage of your startup in the places where your prospects go (trade press, social media, blogs, Twitter, Pinterest, you name it) will go a long way to shaping the perception of your brand, motivate buyers to find you and hopefully to become your customer. That's why for 100 percent of our startup clients, we have made PR an ingredient in their marketing program mix."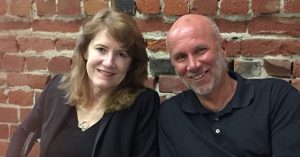 Carol Broadbent and Tom Hogan, authors, The Ultimate Start-Up Guide
"A startup can be an idea seeking traction (from early funders), an early-stage company (friends and founders money) or a company that has received its first round of funding," they said. "Another way to define it is: any company that has yet to find its rhythm in the market (no matter its age)."
When asked about the greatest challenge the book presented they replied, "The challenge, as you'd guess, given our workload (3 clients at a time and it's just the two of us) and the pace of Silicon Valley, was finding the time to write the book. And to get the participation of past clients and VCs who are as busy as us.  The reward has been in the early reviews, not just from strangers who have read the book and commented on it but from clients (and possible new clients) who contact us and tell us how much they learned in reading the book. (Note: it's not that we've discovered something new or unique—it's that we package and present it in practical ways that they can use in their daily operations."
Prior to founding Crowded Ocean, Broadbent was vice president of corporate marketing at Bay Networks, senior vice president of corporate marketing at Aspect Communications, and director of marketing at Sun Microsystems. In addition, she led marketing at two Kleiner Perkins-funded startups: vice president of marketing at Asera, and director of market development at Go Corporation.
Hogan has more than 25 years of marketing experience, including roles as vice president of marketing at Oracle, Borland, Lucent, and VitalSigns Software. As Oracle's original creative director, he managed the global advertising, direct marketing, seminar and trade show, and creative departments.
---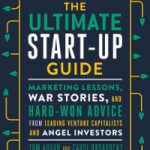 Click to buy The Ultimate Start-Up Guide
---