Posted by Elena del Valle on November 19, 2010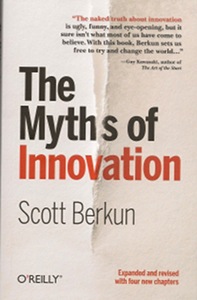 The Myths of Innovation book cover
Scott Berkun looks, with humor, at the history of ideas in the newly published paperback edition of The Myths of Innovation (O'Reilly Media, $17.99). This edition includes four new chapters on finding ideas and putting them to work, updated references, and new stories.
The author set out to share with readers his thoughts on where ideas come from, the history of history, why people don't like ideas, how ideas thrive, how to pitch an idea and the benefits of innovation. He believes one of the secrets to discovering ideas is to work hard while making sure to include down time. Letting the mind wander frees our subconscious to be creative, Berkun says.
According to Freeman Dyson, a physicist and author Berkun quotes in his book, people who are busy all the time are not creative. At the same time Dyson says that breaks only work if they represent a change from productive work. In other words, being on a full-time vacation does not necessarily lead to creativity; although multitasking may be helpful by allowing the mind to take a break from one project while the person works on another.
"Innovation is simple if you stop thinking about it in the broken, false, but popular ways others do, and the book is a great guide," said Berkun in a press release. "It's been so popular because it makes the surprising truth about how great things happen fun and inspiring, as well as easy to apply at work as soon as you put the book down."
Berkun also points out that the line between creative and insane (or eccentric) is a fine one. At the same time he believes that the moment of discovery cannot be controlled and is only one part of making an idea into a success. He argues that innovation for the sake of innovation is not always the answer in the same way that the status quo isn't always the best solution. In an earlier chapter he proposes that while innovation itself cannot be harnessed it is possible to identify the challenges faced by innovators; he proposes eight main challenges.
Berkun is the author of Making Things Happen and Confessions of a Public Speaker. Since Aug 2010 he works for Automattic on WordPress.com. The author grew up in Queens in New York City, studied design, philosophy and computer science at Carnegie Mellon University, graduating with a B.S. in Logic and Computation. He worked at Microsoft from 1994 to 2003. His work has appeared in The Washington Post, The New York Times, Wired Magazine, Fast Company, and Forbes Magazine.
---
Click to buy The Myths of Innovation
---