Posted by Elena del Valle on March 4, 2011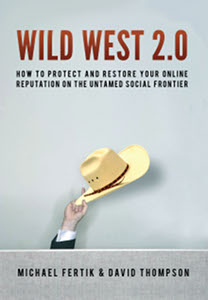 Wild West 2.0 book cover
Photos: AMACOM
Attorneys Michael Fertik of Redwood City and David Thompson of Los Angeles, California believe the internet is a new world where many of the rules we know and abide by do not apply. Convinced that the online world is a kind of Wild West, they named their recently released book Wild West 2.0 How to protect and restore your online reputation on the untamed social frontier (AMACOM, $24,95).
Both used to work for ReputationDefender. In January 2011, a company name change to Reputation.com was announced. After the book was published Thompson moved on to a law firm. It took the attorneys several years to conduct the research for the book and one year to write it. In the book, they assert that because search engines do not rank results based on the veracity of the information baseless attacks may spread in the digital world without checks of any kind.
Thompson explained by phone that since the book was published "it is becoming even more important to be aware of online reputation issues;" that Google still dominates the market and constantly changes its natural results formula without revealing, except for a very broad outline, the selection criteria. A customer whose privacy is violated or whose reputation is wrongly described online may go out of business, he explained when asked about the business consequences and importance of reputation management.
The authors offer "proven strategies for building a storm proof reputation." In the book, they explain the parallels they see between the lawless frontier in the Old West and today's internet; share stories of anonymous attacks; discuss sites that share private data; make suggestions for readers to locate online mentions about them and their businesses online; outline strategies to respond to baseless information with truthful content; and address methods for reputation repair and protection.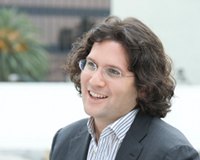 Co-author Michael Fartik
The 264-page hardcover book published in 2010 is divided into 14 chapters: Welcome to the New Digital Frontier; Your Online Reputation is Your Reputation; The Internet is the New Wild West; The Forces Driving Online Reputation; Anonymous Cowards; Google Gone Wild: The Digital Threat to Reputation; Why People Attack Each Other Online; Types of Internet Attacks; How to Measure Damage to Your Internet Reputation; Your Reputation Road Map and Online Reputation Audit; Getting Proactive: The Best Defense is a Good Offense; Recovering from Online Smears: Restoring Your Reputation After the Damage Has Been Done; Protect Your Small Business and Your Professional Reputation; and Conclusion: Embrace the Internet.
Co-author David Thompson
According to a Reputation.com spokesperson, the book hit some "great milestones on Amazon" such as the number one place in the Public Relations and Computers and Internet categories; second place in Marketing and Sales; third place in Business and Management; twelfth place in Hot New Releases, and twenty-second place overall. Fertik is the founder and chief executive officer of Reputation.com (formerly ReputationDefender). He serves on the advisory board of the Internet Keep Safe Coalition.
Thompson was general counsel and chief privacy officer of Reputation.com at the time the book was written. He is now an attorney with Munger Tolles and Olson LLP where he is developing the firm's reputation management practice.
---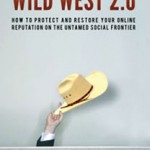 Click to buy Wild West 2.0
---