Posted by Elena del Valle on July 18, 2011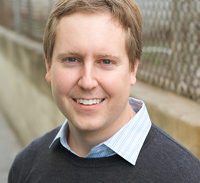 David Thompson, co-author, Wild West 2.0
Photo: David Thompson
A podcast interview with David Thompson, co-author, Wild West 2.0: How to Protect and Restore Your Online Reputation on the Untamed Social Frontier is available in the Podcast Section of Hispanic Marketing & Public Relations, HispanicMPR.com. During the podcast, he discusses reputation management online and his book with Elena del Valle, host of the HispanicMPR.com podcast.
David based the book on his experience as general counsel at Reputation.com, Inc., an online reputation management firm where he used to work. At the company, he helped many individuals and small businesses build positive online reputations with the hope that it would help them find success in their careers and industries.
In addition to being an author, he is a practicing lawyer at the Los Angeles based law firm of at Munger Tolles & Olson LLP. Highlights of his legal career include clerking for Justice Antonin Scalia of the Supreme Court, and for Chief Judge Alex Kozinski of the Court of Appeals for the Ninth Circuit. David received his J.D. from Stanford Law School and a B.A. from Yale University.
To listen to the interview, scroll down until you see "Podcast" on the right hand side, then select "HMPR David Thompson" click on the play button below or download the MP3 file to your iPod or MP3 player to listen on the go, in your car or at home. To download it, click on the arrow of the recording you wish to copy and save it to disk. The podcast will remain listed in the July 2011 section of the podcast archive.
---