Posted by Elena del Valle on April 2, 2014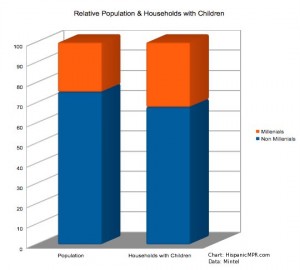 2014 Relative Population & Households with Children – click to enlarge
In the United States, two thirds of Millennials have never been married, according to Marketing to Millennials US February 2014 Executive Summary, a Mintel report. Those who got hitched are in their late twenties. The median age for first marriage is about 29 for men and 27 for women. Thirty-two percent of households with children are Millenial households. At the same time, 43 percent of Millenial households include children.
Although 25 percent of Millenials 25 and older have a bachelor's degree and 9.5 percent have a graduate degree compared to 11.1 percent of all adults, unemployment among that market segment is higher than for the national average. At the time of the report, 10.3 percent of Millennials between 20 and 24 years old, and 6.8 percent of Millennials aged between 25 and 34 were unemployed. The national unemployment average is 6.5 percent.
There's a notable difference in household income between younger and older Millenials. While Younger Millennials, those under 25 years of age, have a median household income of $30,604, the median income of Older Millennials, those 25 and older, is about $51,381. The former may be still be studying or in an entry-level job, whereas Older Millennials may be working full-time and more advanced in their career. Mintel researchers believe the 2008 financial crisis caused median income for those aged 15-24 to decline 13 percent between 2007 and 2012, and decline 9 percent for adults aged 25-34.
At the same time, annual spending for Younger Millennials is 40 percent less than for all adults, while among Older Millennials, average expenditures are about 4 percent less. Younger members of the market segment spend less on everything except education. Older Millennials spend a good deal more than all adults on alcoholic beverages and apparel and services, and significantly less on healthcare.