Posted by Elena del Valle on August 18, 2010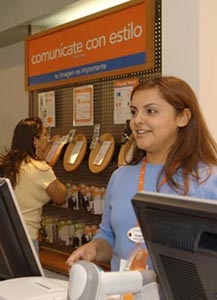 Spanish language signage at a cell phone store
Photos: AT&T, Sony

A bird's eye view of Latinos across the country reveals lower use of technology than that of non Latinos. Also, age and language preference are indicators of technology use. Older Latinos rely on technology less than young ones. Spanish dominant Latinos use of technology is lower than that of English dominant and bilingual Latinos.
More than two thirds (78 percent) of non Latino adults (18 and older) go online compared to 64 percent of Latinos of the same age; and 86 percent of non Latinos use cell phones while 76 percent of Latinos use cell phones.
At the same time, when it comes to the use of technology not all Latinos are equal. United States born Latinos use of the internet and cell phones is higher than that of foreign born Latinos. Latinos born in the United States are much more likely to use technology, especially the internet, than foreign born Latinos, according to a Pew Hispanic Center report released recently. The report, written by Gretchen Livingston, senior researcher, Pew Hispanic Center points to a significant difference between the two groups. The Pew Hispanic Center is a research organization that seeks to improve understanding of the U.S. Hispanic population.
For example, 85 percent of Latinos 16 and older born in the United States rely on the internet while only 51 percent of their foreign born counterparts surf the digital world. When it comes to cell phone use the difference is less marked: 80 percent of United States born Latinos use a cell phone while 72 percent of foreign born Latinos do so.
Sony Vaio J computer
If we look at technology use among young people in the United States the difference is also clear. Nearly all (96 percent) non Hispanic youth between 18 to 25 years of age surf the internet while only 77 percent of Hispanics go online. Eighty-two percent of non-Hispanics ages 16 and 17 use a cell phone while 72 percent of Hispanics of that age do so. Ninety-four percent of non Hispanics aged between 18 and 25 use a cell phone compared with eighty percent of Hispanics.
If we look at technology use among people 55 and older, there is still a difference between Latinos and non Latinos. Among non Latinos 75 percent use cell phones and 57 percent use the internet while only 60 percent of Latinos in that age group use cell phones and 42 percent use the internet.
When it comes to going online language preference is a key factor. A majority of English dominant (87 percent) Hispanics 16 and older and bilingual (77 percent) Hispanics are more likely to use cell phones than Spanish dominant Latinos (35 percent).
This report was based primarily on the 2009 National Survey of Latinos, conducted from August 5 through September 16, 2009 among a randomly selected, nationally representative sample of 2,012 Hispanics ages 16 and older. The survey was conducted in English and Spanish on landline and cellular phones.