Posted by Elena del Valle on June 25, 2010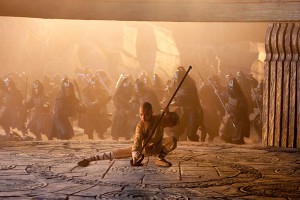 A scene from The Last Airbender – click on image to enlarge
Photos, video: Paramount Pictures, Nickelodeon Movies
The Last Airbende is an avatar able to manipulate the four elements, Air, Water, Earth, and Fire in the hopes of restoring balance to his war torn world. That's a heavy burden for a young boy to carry. It is no wonder the story is from children's television. M. Night Shyamalan wrote, produced, directed and converted an animated Nickelodeon TV series into an action film starring Dev Patel, Jackson Rathbone, Nicola Peltz, Cliff Curtis, Shaun Toub, Aasif Mandvi and Noah Ringer. The Paramount Pictures and Nickelodeon Movies film opens in theaters nationwide July 1, 2010. Scroll down to see a trailer.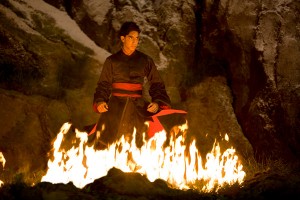 A scene from The Last Airbender – click on image to enlarge
In this first film of the story Aang (Noah Ringer) is caught in the middle of a struggle between his world's four nations when the Fire Nation declares war against the others. After a century without hope Aang discovers he is the lone Avatar who can manipulate the four elements. The hairless young boy teams up with Katara (Nicola Peltz), a Waterbender, and her brother, Sokka (Jackson Rathbone), to find a way toward peace.
Manoj Nelliattu Shyamalan, known professionally as M. Night Shyamalan, is an Academy Award-nominated Indian American film writer, director, and producer. He is best known for the 1999 film The Sixth Sense, starring Bruce Willis and Haley Joel Osment, which grossed $600 million worldwide.