Posted by Elena del Valle on February 2, 2017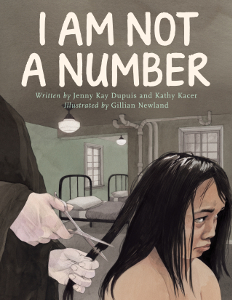 I Am Not a Number
Photos: Second Story Press
Jenny Kay Dupuis, Ed.D.'s interest in her family's past and her commitment to teaching about Indigenous issues through literature drew her to co-write her first children's book. It took her and Kathy Kacer three years to write I Am Not a Number (Second Story Press, $18.95), the true and personal story of Irene Couchie Dupuis, her grandmother, who was taken from her Nipissing First Nation's family and community at a young age to live in a residential school in the late 1920s in Canada. They wrote the easy to read lovingly illustrated book for school-age children (ages seven and up) to learn about the legacy of the Indian Residential School System (known as boarding schools in the United States). According to the author, it has also appealed to "educators (Grades 2-12), librarians, families, and community organizations interested in reading stories about true history, and supporting children and youth to develop critical literacy skills to engage in important, meaningful discussions about the injustices that have and are currently occurring to Indigenous peoples." In it, they share her grandmother's story, including the hardships and verbal and corporal punishment she and other children endured at the hands of the nuns and within the system.
"When I was growing up, we didn't talk much about the history and injustices in school programming," Dupuis said by email when asked about the Nipissing First Nation. "I learned about my culture and community values, like having respect for myself and others, while working a part-time job (as a youth) at a local restaurant called the Teepee Café owned by Dot Beaucage-Kennedy. It was a place where everyone gathered, including storytellers, Elders/knowledge keepers, grandmothers/grandfathers, artists (traditional/contemporary), language speakers, and families. Times have changed. We are now seeing these opportunities expand into the school systems. I'm really proud of the opportunities that are emerging, especially for children and youth, that place an emphasis on historical/contemporary realities, culture, traditions, and values, including efforts to revitalize the Ojibwe language and culture."
The 32-page hardcover book was published in 2016. Color illustrated by Gillian Newland the book also includes several black and white family photos. The people who were involved in the abuse were never punished, nor did they apologize for the wrongdoings in her granny's case, Dupuis explained.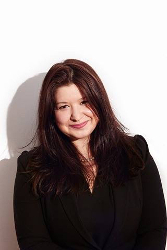 Jenny Kay Dupuis, Ed.D., co-author, I Am Not a Number
When asked why she wrote the book Dupuis replied, "Listening to the stories of my family and community history led me to write I Am Not a Number. My granny shared with me her story at a time when I felt that she wanted to share her truth. I held onto her story for years, waiting for the right time to share it. While I was working in the field of Indigenous education, I found there weren't any children's picture books that focused on the Residential School System through the lens of an Indigenous family. So I wanted to reach out to young people through storytelling and literature to ensure they hear true stories about the legacy of forced assimilation; where Indigenous children were taken from their families/home communities and sent to residential schools.
In addition, I also wanted to use literature as a means to encourage educators, families, and community groups to begin to facilitate deep conversations, with young people and each other, about the legislation and policies that have impacted (and still impact) Indigenous peoples. I'm really pleased at the response. So far, educators, community groups, and families have been in contact via social media sharing how they have used the book since its release. For instance, Luke Bramer, a performing arts teacher used the book to inspire his junior level/ freshman high school students to learn about the residential school system and create a puppet theatre performance, using breathing puppets to retell my granny's story. Other teachers have been using activities like 'role on the wall' to introduce the topic of residential schools and begin to discuss topics like genocide, the impacts of colonialism, oppression, assimilation, etc. Families have read the book with their young children, going through a 'picture walk' to stimulate interest. Additionally, community organizations, like in Hamilton ON (Canada), are in the midst of hosting (grassroots-led) book launches and readings that also feature youth artwork and other learning inspired by the book I Am Not a Number."  
Kathy Kacer, co-author, I Am Not a Number
The Nipissing First Nation lives on the shores of Lake Nipissing in Northern Ontario, Canada. There is a registered band membership of approximately 2,500 persons with about 1,000  residing on reserve. Dupuis is of Anishinaabe and Ojibway ancestry and a member of Nipissing First Nation. The Toronto resident is an educator, researcher, artist, and speaker who works full-time supporting the advancement of Indigenous education.
Kacer is known for her children's books about the Holocaust, including The Secret of Gabi's Dresser and The Magician of Auschwitz. A former psychologist, she now travels the globe speaking to children and adults about her books. Newland works in watercolor, ink, and pencils. She finds most of her inspiration to draw outside of her studio, and can sometimes be found sketching fellow customers at a coffee shop. She is the illustrator of The Magician of Auschwitz among other books. All three women live in Toronto.
---
Click to buy I Am Not a Number
---