Posted by Elena del Valle on August 21, 2009
As social media grow in popularity (see Which social networking site is right for you? and Businessmen outline social media basics) more people and businesses seem to join the Twitter ranks (see About Twitter and About Twitter II). Twitter offers easy to use social networking opportunities with postings limited to 140-characters. For aspiring Twitter users, the well known For Dummies series released a new 267-page paperback book published in 2009, Twitter For Dummies (Wiley Publishing, $21.99). Three people collaborated to make the book come to fruition, Laura Fitton, Michael E. Gruen and Leslie Poston.
Twitter For Dummies starts out with a foreword from Jack Dorsey, founder and chairman of Twitter, and a Cheat Sheet with do's and don'ts, access points and shorthand commands. Dorsey mentions that Twitter is based on three concepts: "minimize thinking around communication, expose trends in local and global circles, and spark interaction." The book is divided into five parts of between three and four chapters each: Twitter? Like Birds Do?, Joining Your Flock on Twitter, Twittering in High Gear, Knowing Why We Twitter, and The Part of Tens.
It was written for people wanting to start a Twitter account to build their network of contacts, locate similar minded people interested in following their brief Twitter postings, and leverage the social media site for business communication and networking. It also addresses Twitter terms, how to Twitter when you are not at your office or home, third party applications, and Twitter character use and meaning.
Fitton is a business consultant, blogger and Twitter fan with a following of more than 32,000 when the book was published. Gruen is a business adviser and chief financial officer and chief operating officer of Nom, a digital strategy agency. He is also the chief executive officer of a healtcare startup. Poston dedicates her time to social networking, new media, branding and business development. She has more than 200 books to her credit.
---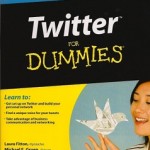 Click here to buy Twitter For Dummies
---