Posted by Elena del Valle on April 27, 2009
Are you thinking of joining the social networking wave? Depending on your interests there are several sites worth considering. Some people sign up and become active in multiple sites. If your attention span or time limits are strict you can try Flutter, self described as nano blogging with a limit of 26 characters per posting; or if you have more to say there's the increasingly popular Twitter. For something more mainstream oriented with a profile listing, full length postings and widgets there are several very popular options.
Founded in 2004 as a collegiate website at Harvard, Facebook has the highest number of members, 200 million, according to the company website. Founded in 2003 and owned by Fox Interactive Media, MySpace follows with 120 million users. It is a popular choice for entertainers to post profiles. In addition to the main MySpace website and a Spanish language section for Spanish speakers in the United States, there are 33 portals in several languages available in three major areas of the world. MySpace Latino estimates there are nine million users on its pages. According to one monitoring portal, Facebook and MySpace are among the top five most visited websites in the United States.
Hi5, favored in Latin America, Europe and Asia, is available in 50 languages and 200 countries. The privately owned San Francisco based portal established in 2003 claims 80 millions fans. Friendster, a Mountain View, California based company established in 2002, is backed by Kleiner Perkins Caufield & Byers, Benchmark Capital, DAG Ventures, IDG Ventures, and individual investors. It reports a world audience of 100 million. It is especially popular in Asia.
Tagged, established in 2004, attracts teenagers in the United States and abroad. Headquartered in San Francisco, California the company lists 70 million members. Founded in 2003, LinkedIn has a modest membership of only 38 million in 200 countries compared to some of the other networks. It's main distinction is that it is popular in the business community. The LinkedIn Answers section may appeal to professionals who want to be recognized as experts within the site. Four languages are listed on the company website: English, German, French and Spanish.
Google owned Orkut was initially an exclusive site for technology buffs when it started in 2004. In 2006, the portal was opened to the general market and developed a following, especially in Brazil, Paraguay and India. It boasts 25 million subscribers. Founded in 2005, Bebo has sites in the United States, United Kingdom, Ireland, Australia, New Zealand, Canada, Poland, France, Germany, Italy, Spain, India and the Netherlands. It is owned by AOL and has 22 million subscribers.
Sarasota, Florida based Fast Pitch was originally established three years ago by Bill Jula and Rich Swier as a national speed networking forum. According to a company spokesperson, the website which offers two basic levels of participation, paid and free, has been profitable for 30 months. There are 350,000 members with free memberships and an undisclosed number of paid subscribers. About five percent of the membership is Hispanic. In addition to English, Fast Pitch is available in German, Portuguese, Italian, two types of Chinese and Spanish.
Several portals provide forums for Spanish speakers and Latinos specifically. Quepasa Corporation, a publicly traded company based in West Palm Beach, Florida, targets users in English, Spanish and Portuguese through its portal Quepasa.com. According to a company spokesperson the portal, established in 1997, has 2.5 million members and grows by 100,000 users per week. The company has offices in Los Angeles, California; São Paulo, Brazil; Scottsdale, Arizona; Miami, Florida; and Hermosillo, Mexico.
"Quepasa has built a viral platform, powering culturally relevant media and contests, such as Playboy Mexico Cyber Chica contest and the Dr. Rey Health and Beauty contest," said John C. Abbott, chief executive officer  of Quepasa by email.
MiGente is part of Community Connect Inc., a New York based company. Other sites include Hispanito, Vostu and MiGrito. None of these portals replied to requests for information.
---
"Search Engine Marketing to Hispanics" audio recording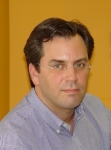 Presenter Matias Perel, founder and president, Latin3
Find out about
The 16 million Latino online users
Types of online access among Hispanics
Latino online user language preferences
What they do online
Usage by age
Income levels among Hispanics who visit the Internet
Internet use by Hispanics
Click here for information on Search Engine Marketing to Hispanics
---