Posted by Elena del Valle on May 27, 2009
How many Americans are happy today and what makes them happy? Good jobs? A high income? Family and friends? Researchers set out to find the answers to these questions by polling 2,401 adults in the United States online between April 13 and April 21, 2009. The results were a little surprising given the current state of the economy and the popular belief that money is the greatest source of happiness of all.
A little more than one third, 35 percent, of Americans said, last year and this year, that they are very happy in response to a Happiness Index online poll. Surprisingly, income did not equate to happiness among survey respondents. The group with the highest happiness index (39 percent) had an income between $50,000 and $74,999. The next group, with a 36 percent happiness index, earned $75,000 and higher.
In spite of the economic slump, African Americans and Hispanics who responded this year were happier than last year's respondents. Last year, 35 percent of African Americans were happy as were 32 percent of Hispanics. This year, 41 percent of African Americans said they are happy and 36 percent of Latino respondents said they are happy. According to a Harris Interactive spokesperson no further information was gathered about emerging minorities in the polling process.
The poll also revealed that women who responded are slightly happier than men (36 percent versus 34 percent); and married women respondents are happier than single women (38 percent versus 34 percent). The survey also indicates that those with a high educational level tend to be happiest: while 33 percent of individuals with a high school or lower education said they are happy, 36 percent of respondents with some college and college graduates are happy, and 39 percent of those with a post graduate education are happy.
More Democrats were happy this year (from 33 percent to 36 percent) and fewer Republicans (39 percent to 37 percent). The researchers believe the changes may be related to the election of President Obama.
Harris Interactive conducts custom market research in North American, European and Asian offices and with the help of a network of independent market research firms.
---
"Happy for No Reason" audio recording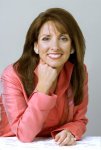 Presenter Marci Shimoff, author, Happy for No Reason
What: An audio presentation by Marci Shimoff and Q&A with Marci Shimoff and HispanicMPR.com audio program host Elena del Valle about finding happiness.
Available exclusively on HispanicMPR.com!
Click here to listen to a short interview with Marci
Click here for more information on "Happy for No Reason" audio recording with Marci Shimoff
---