Posted by Elena del Valle on September 3, 2010
The Norton Anthology of Latino Literature
Photo: Sam Masinter
A compendium of the Latino literary tradition, The Norton Anthology of Latino Literature (W. W. Norton; $59.95) is due to be published in hardcover September 13, 2010. The heavy hardcover book has 2,489 pages plus 177 appendix pages. The book features the work of 201 Latino writers from Chicano, Cuban-American, Puerto Rican, and Dominican-American traditions, and writing from other Spanish-speaking countries. Works from writers of Brazil, Portugal and the Philippines were excluded.
Ilan Stavans, a cultural critic and Lewis Sebring Professor of Latin American and Latino Culture at Amherst College, was the general editor of the title which traces five centuries of writing, from letters to the Spanish crown by sixteenth-century conquistadors to the expressions of twenty-first-century cartoonists and artists of reggaeton. It took 13 years to gather the information and make the book a reality.
The book is divided into six chronological sections: Colonization, Annexation, Acculturation, Upheaval, Into the Mainstream, and Popular Tradition and includes samples of the work of José Martí, William Carlos Williams, Julia Alvarez, Oscar Hijuelos, Cristina García, Piri Thomas, Esmeralda Santiago, and Junot Díaz. Three appendices, Chronology-Literature and History; Treaties, Acts and Propositions; and Influential Essays by Latin American Writers precede a Selected Biography section.
The selection was based on four thematic emphases: identifying Latinos for purposes of the book as those writers from Spanish speaking countries living in the United States regardless of the length of time they resided in the country or their race while taking into account that the events and circumstances of more than one nation may have influenced some of the authors.
Ilan Stavans, general editor, The Norton Anthology of Latino Literature
Mexico City born Stavans, a writer and public television host, authored Growing Up Latino and Spanglish. He lives in Amherst, Massachusetts. Other editors listed at the beginning of the book are: Edna Acosta-Belén, a Distinguished Professor of Latin American, Caribbean, and U.S. Latino Studies and Women's Studies, University of Albany, State University of New York; Harold Augenbraum, executive director, National Book Foundation; María Herrera-Sobek, associate vice chancellor for Diversity, Equity and Academic Policy and professor in the Department of Chicana and Chino Studies, University of California, Santa Barbara; Rolando Hinojosa, Ellen Clayton Garwood Professor of Creative Writing, University of Texas at Austin; and Gustavo Pérez Firmat, David Feinson Professor of Humanities, Columbia University.
---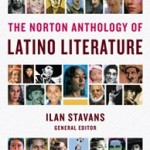 Click here to buy The Norton Anthology of Latino Literature
---