Posted by Elena del Valle on May 11, 2011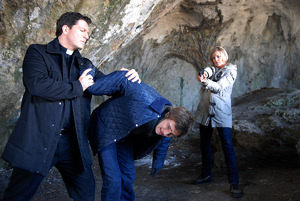 Scene from German series No Mataras
Photo: Vme
In addition to targeting cooking aficionados and young children (see Starting today Vme, National Wildlife Federation to air translated program for preschool kids and National Spanish language TV network offers extensive cooking programming) Vme programming executives want to reach adults 18 to 49 years of age. With that goal in mind the Spanish language network is launching No Matarás, a German produced series making its United States debut on Vme this month. The show was translated into Spanish.
No Matarás (Spanish for You Will Not Kill) features Father Simon Castell (Francis Fulton-Smith), a special commissioner of the Holy See and the Vatican's personal private eye, and Marie Blank (Christine Döring), his police partner, as a crime fighting duo. Vme plans to broadcast 15 episodes of the hour long program produced by UFA International Film and TV Production GmbH and shot in Rome and Caprarola.
In the program, Father Castell is cast as handsome, outgoing, and tenacious with an atypical personality to match the job the Vatican has assigned him. He is aided in his task by a good sense of humor, a fanatical love of soccer and the ability to crack safes. His partner is a police inspector described as a clever and tough single mom. The two team up to catch crooks and build a sometimes difficult relationship that relies on his knowledge of the church and her knowledge of the streets. The episodes will air at 10 p.m. ET Wednesday nights beginning May 11, 2011.
Vme (pronounced veh-meh) is a national Spanish-language television network presented by public television stations. The 24-hour Spanish network available in 10 million homes, offers drama, music, sports, news, current affairs, Latin cinema, food, lifestyle, nature and educational preschool content.