Posted by Elena del Valle on March 1, 2017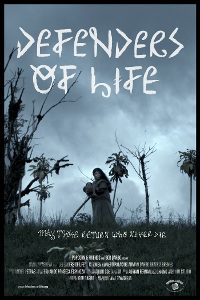 The Defenders of Life poster
Photos by Julio Costantini © 2015 Popcorn & Friends, video clips used with permission © 2015 Popcorn & Friends
In 2015, film director Dana Ziyasheva and her four person team completed Defenders of Life, a 94-minute film in three languages, Ngabere, Spanish, and English, about underage marriage among the Ngäbe people of Costa Rica. Much of the dialogue is in Ngabere or Spanish with English subtitles. It was titled after Defenders of Life, an ancient Ngäbe sacred song celebrating the tribe's respect for and symbiotic relationship with nature, ancestors and fertility. The film is available exclusively at Flix Premiere, an online video on demand service. Scroll down to watch video clips from the movie with subtitles.
Defenders of Life, a fiction film about real life issues, was born out of the real-life friendship between Carmen, a Ngäbe matriarch, and the director while she was a guest at Carmen's house. During that time they discussed Carmen's life and her hopes and fears for her daughters and granddaughters. Much of the film was shot on Ngäbe land and featuring Ngäbe.
 
"We both wanted to give voice to the voiceless, leaving a proud testimony of her ancient civilization under threat and show the place and challenges of women in this culture," Ziyasheva said in a press release. "We both wanted it to be aesthetic and allegorical. Carmen's story is my story too. I was afraid to break away from my society in defiance of the decision-makers of my country. I was equally afraid to leave the comfort and security of the United Nations. It doesn't matter how good or bad a life situation is, people fear the unknown. To make audiences around the world relate to a story of an indigenous woman lost in a rainforest was my goal as film director in this project."
Defenders of Life tells the story of Esmeralda, a Ngäbe indigenous girl who lives on a reservation in Costa Rica. Esmeralda's grandmother Carmen raises her alone because the girl's mother was murdered by her jealous boyfriend. In the movie, as in real life, when a Ngäbe girl reaches puberty, she becomes eligible for marriage, as is the custom of the tribe. When the village elder asks for her hand in marriage, Carmen must decide whether Esmeralda should follow in the footsteps of Ngäbe women or break away from the tradition and long term from the community.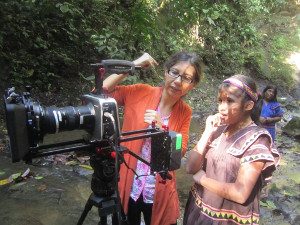 During the filming of Defenders of Life
"We had a script, but since the Ngäbe actors playing their own roles were all non-professionals, most of whom don't know how to read, we relied a lot on rehearsals and improvisation. I wanted the film to go beyond the ethnographic clichés. We show that Ngäbes are multi-layered, with contradictions, and made of good things and bad things like everyone else. But most of all, they are authentic, true to themselves and they don't get intimidated by outside pressure," said Ziyasheva.
 
In the film, Pamela, an anthropologist from the University of Costa Rica, and her son Feb, an American tween, advocate different approaches to the dilemma of an indigenous people's society. Through his friendship with Esmeralda, Feb becomes part of tribal dynamic, while well-meaning Pamela aims to force her notion of development on the Ngäbe. Most of the filming took place  in the indigenous Ngäbe community of La Casona in Southern Costa Rica, near the border with Panama, and a little bit in San Jose, the Costa Rican capital.
The film, produced by Popcorn & Friends, was recognized with award at Mostra Amazonas de Cinema, Brazil; Burbank International Film Festival, California; Viva! Latino Film Festival NYC Int'l, New York City; Madrid International Film Festival 2016; Love International Children Film Festival, California; International Film Festival for Peace, Inspiration and Equality, Indonesia; Global Independent Film Awards, online; and Depth of Field International Film Festival, online.
"To make this crazy guerilla-style project possible, I was lucky to assemble a unique international team of passionate film professionals from France, Brazil, Cuba and Costa Rica. They were all 100 percent dedicated to the idea of living and working with the Ngäbe in the rain forest in order to make this film, no matter the hardships, budget constraints or physical risks," said Igor Darbo, producer, by email via the film's publicist. "Snakes were never too far, both in the story and on set! Of course it also took time to gain the Ngabe's trust, especially the men's and after visiting the community multiple times and taking part in their festivals and assemblies, I develop a bond with Don Francisco, the elder leader who then agreed to play the old man marrying the teenage girl in the film. That bond was the mirror of Dana's relationship with Dona Carmen, the protagonist and that's what made the film possible. As a producer, I am extremely proud that Defenders of Life was able to touch the heart of people on all continents, but most of all of the enthusiastic reception it got from the Ngäbe themselves."
Ziyasheva is an award-winning author, scriptwriter and film director from Kazakhstan. She has 25 years of field experience as a journalist. As adviser for Communication and Information of the United Nations she has traveled from Iraq to China and Central America. In 2016, her debut novel Shock was published in France.
Popcorn & Friends is a boutique production company founded in March 2012 by Darbo to produce "highly creative international films that are both entertaining and meaningful." After winning the Best Co-Production Project award at the Shanghai International Film Festival for its high-concept Chinese treasure hunt The Dragon Angel, Popcorn & Friends produced Defenders of Life.
Between 200,000 and 250,000 Ngäbe people live on both sides of the border between Panama and Costa Rica. The community in the film is about 1,500 people large in Southern Costa Rica. According to the film producers, the Ngäbe (Ngabere is their language) are torn between tradition and assimilation into the modern society. Their youth start to slowly lose command of their native idioms and follow traditions less while education in Spanish and work opportunities in the city draw them further away from their ancient roots.
The proposal
The snakewoman