Posted by Elena del Valle on March 12, 2010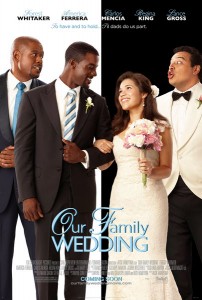 Click on image to enlarge
Photos, video: Fox Searchlight Pictures
Our Family Wedding, a new Fox Searchlight Pictures film, opens today in theaters nationwide starting a black and Latino cast and a family theme. Some of the actors are America Ferrera, Carlos Mencia, Forrest Whitaker, Diana Maria-Riva, Regina King, Anjelah N. Johnson, Lupe Ontiveros, Taye Diggs, and Charles Q. Murphy. Scroll down to watch a video with film premier highlights and film moments.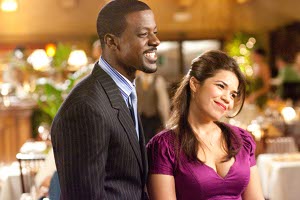 Marcus (Lance Gross) and Lucia (America Ferrera)
Lucia (America Ferrera) and Marcus (Lance Gross) are newly engaged. As they plan their union they learn the hard way that the path to the wedding involves family related challenges. Saying "I do" can be rife with familial strife. According to promotional materials, their fathers (Forest Whitaker and Carlos Mencia), two highly competitive men with big egos, stand between them and their special day.
Lucia's mother (Diana Maria Riva) is busy planning the wedding of "her" dreams. Only Angela (Regina King), the groom's father's best friend and lawyer manages to keep her cool when the madness reaches a crescendo.
The film was directed by Rick Famuyiwa from an original screenplay by Wayne Conley and Malcolm Spellman and Rick Famuyiwa with story by Wayne Conley. It was produced by Edward Saxon and Steven J. Wolfe.