Posted by Elena del Valle on November 4, 2011

Cultures of the City book cover
Photo: University of Pittsburgh Press
Fifteen academics, eight women and seven men, address Latino identities in urban environments in Latin America and the United States in Cultures of the City Mediating Identities in Urban Latin/o American (University of Pittsburg Press, $25.95). The book was edited by Richard Young, professor emeritus of Spanish and Latin American studies, University of Alberta, and Amanda Holmes, department chair of Hispanic studies, McGill University.
The 262-page softcover book with 15 illustrations was published in 2010. It is divided into three main sections, Imagining Urban Identities, Urban Identities and Cultures on the Periphery, and Performance and the Ritualization of Urban Identities.
While most of the book addresses Latin American cities including Asuncion, Bogota, Buenos Aires, Havana, Lima, Mexico City, Recife, and Salvador two chapters discuss cities in the United States. Rodolfo D. Torres and Juan R. Buriel address Feasting on Latina/o Labor in Multicultural Los Angeles and Catherine L. Benamou addresses Mediating the Public Sphere in Latina/o Detroit: Heart and Margin of an Embattled Metropolis.
Benamou is associate professor of Film and Media Studies and Chicano/Latino Studies, University of California-Irvine. Buriel is assistant professor of English, College of the Canyons in Valencia, California. Torres is professor of Urban Planning and Political Science, University of California-Irvine.
---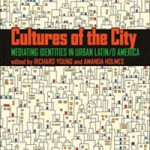 Click to buy Cultures of the City
---