Posted by Elena del Valle on April 18, 2011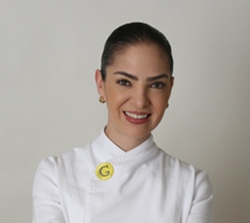 Paulina Abascal, host, Pastelería.mx
Photos: Vme
Vme boasts about its Spanish language cooking block in Vme Cocina which accounts for 5 percent of its overall programming. Earlier this month Vme announced a new schedule starting at 12:30 p.m. Features in the daily two hour block Sunday to Friday showcase the knowledge and styles of chefs from varied countries including Colombia, Mexico, Spain and Venezuela. Vme hosts the block of programs call Vme Cocina and produces the interstitials. The programs within the block, 12 hours per week, come from its production partners, elgourment.com, Scripts and Localia.
In Nuevos Sabores (Spanish for new flavors) shot in Mexico Isabella Dorantes and Gerardo Rivera, two young Mexican chefs, share cooking advice from their home kitchen. Chef Alfredo Oropeza of Más Sabor en Menos Tiempo (Spanish for more flavor in less time) demonstrates how to prepare quality recipes quickly at home for those on a budget. Orígenes con Catalina Vélez, a Colombian chef, prepares Colombian food, with grocery store and Colombian products.
In Puro Sumo, Sumito Estévez, a Venezuelan chef, mixes Venezuelan dishes and Asian styles and strives for a "modern and uniquely international" cuisine. Estévez also presents Sumo Placer dedicated to Venezuelan cuisine.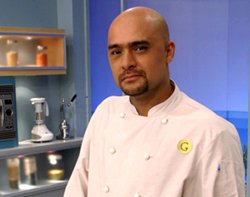 Chef Sumito Estevez, host, Puro Sumo
Cocinando con Fernando Canales is hosted by Fernando Canales, a restaurateur from Bilbao. During the program, he presents his best recipes and practical tricks to help home cooks; shares advice on buying the best groceries and provides dietary and nutrition tips, and recipes for children.
In Gourmet Light, Enrique Fleischmann, a Mexican chef, offers ideas for healthy, delicious dishes with an eye on the waist line. For chocolate lovers there is El Cacao hosted by Mexican José Ramón Castillo.
During Donato Cucina, Donato De Santis, an Italian chef, shares recipes from the diverse regions of his home country. Paulina Abascal spends time sharing baking advice, and Mexican pastry recipes with viewers in Pastelería.mx.
Vme (pronounced veh-meh) is a national Spanish-language television network presented by public television stations. The 24-hour Spanish network available in 10 million homes, offers drama, music, sports, news, current affairs, Latin cinema, food, lifestyle, nature and educational preschool content.
Vme, the first venture of the media production and distribution company, Vme Media Inc., is available free over-the-air, on basic digital cable, nationally via satellite in the basic and Hispanic packages of Dish Network and DirecTV and, in some areas, on Verizon FiOS and AT&T U-verse.